November is National Family Caregivers Month. But, at AARP, we believe every month is a time to celebrate caregivers. In 2015, AARP launched a campaign to support America's 42 million family caregivers who help make it possible for older Americans and other loved ones to live independently at home—where they want to be. AARP is fighting for increased support, help at home, provided workplace protection, facilitated trainings and more. AARP Pennsylvania has engaged in a series of events around Philadelphia focusing on the importance of caregiving in the past several months.

Caregiver Mixers – Respite and Resources for Caregivers

In order to talk about caregiving, available resources, and allow caregivers to unwind and connect with other caregivers in a more relaxed atmosphere, AARP participated in mixers hosted by the Earl Harvey Media Group and Odunde365 in Philadelphia throughout the summer.

[gallery ids="91132,91134,91133"]

Additionally, AARP hosted a mixer for caregivers in the LGBT community. Caregivers showed up to connect with other caregivers and learn about AARP. Desiree Hung, AARP Pennsylvania Associate State Director – Advocacy, announced breaking news that the PA House almost unanimously voted in support of the CARE Act to the resounding sound of applause.

In early June, AARP celebrated with LGBT communities throughout the Commonwealth at Pride Fest. In September, AARP rallied in Harrisburg to call for more help for family caregivers. Pennsylvania's 1.6 million family caregivers statewide currently provide 1.54 billion hours of unpaid assistance annually with a staggering value of $19.2 billion, according to an AARP study.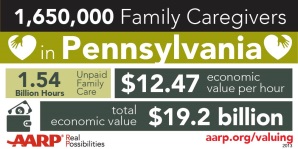 Caregivers deserve a special shout out for all 12 months out of the year, not just during November, so we have worked hard to make sure that Caregivers are consistently remembered and recognized. Caregivers work year-round, so AARP is doing the same.

If you or someone you know are a caregiver or care recipient, join AARP's Online Caregiving Community and learn how to support caregivers.