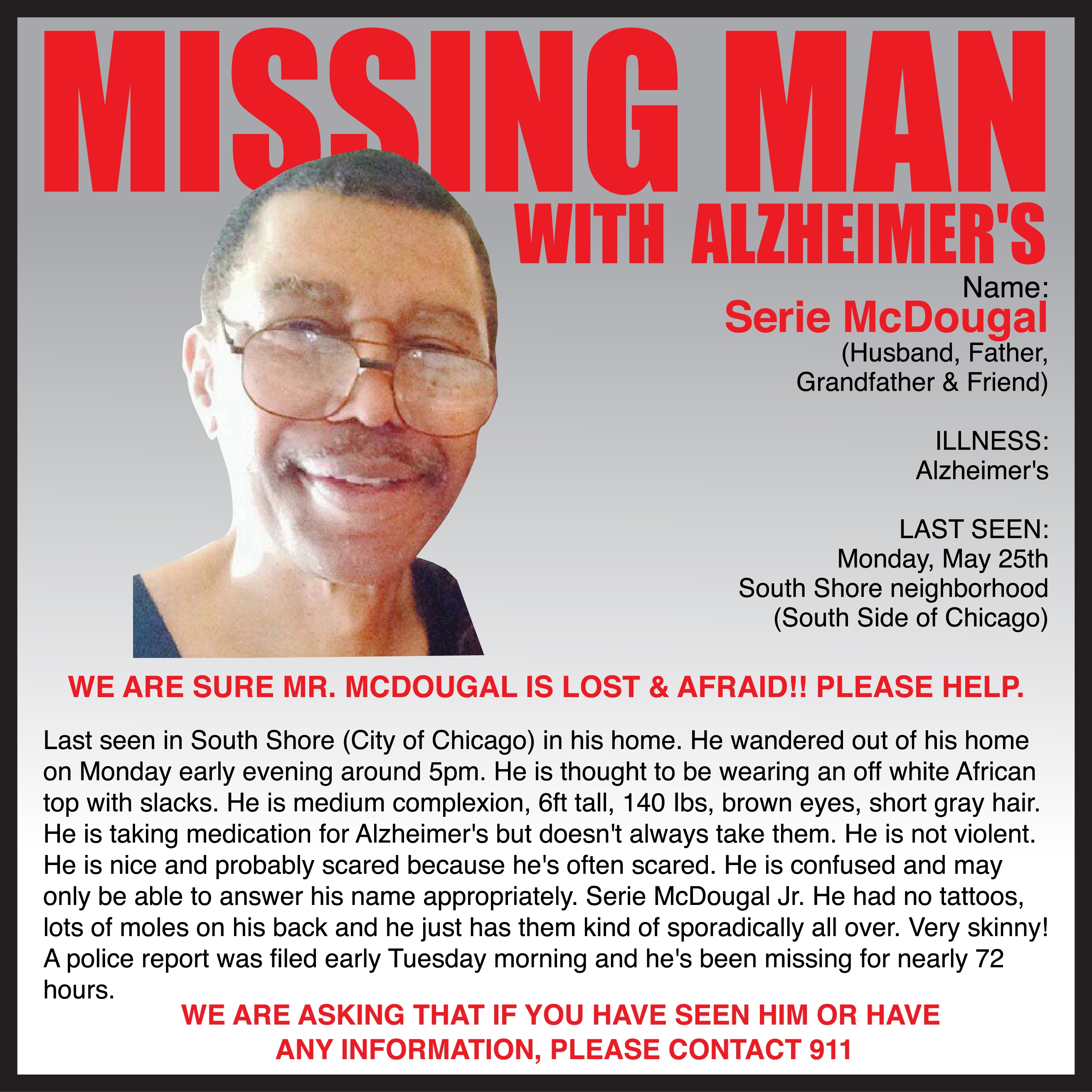 Serie McDougal, Jr., went missing from his South Shore home on May 25, 2015. Mr. McDougal suffers from Alzheimer's disease and his family has been working diligently to locate him and bring him back home. Fliers have been distributed in his neighborhood and surrounding communities, emails have been sent, a Facebook page created, and prayer vigils held. McDougal's family have contacted the local police, media outlets, the Alzheimer's Association, Alderman Leslie Hairston, and Senator Kwame Raoul in efforts to find their missing family member.

Despite all their efforts and reports made in the media, McDougal is still missing. Cases like McDougal's are instances that encourage the enactment of SB 1846, Silver Search. Similar to an Amber Alert, Silver Search is a mechanism for public safety officials to use while attempting to locate a wandering person with Alzheimer's disease or a related dementia to ensure their safe return.

With over 210,000 Illinoisans living with Alzheimer's and no adequate way to locate a resident when they wander, Silver Search has the ability to change public sentiment while protecting thousands of lives.

Silver Search would only be activated if specific criteria were met and the law enforcement agency involved determined additional resources from the public, media, and Illinois Silver Search coordinator was required. Activation of the Emergency Alert System, use of electronic highway signs, blast faxes and emails to media and law enforcement, reverse 911 calls, and more services would be used as search efforts.

22 other states have already implemented similar programs that have shown improvement in locating wandering citizens and returning them to the safety of home.

Last seen on the 1400 block of East 72 nd Street, McDougal was wearing an off-white dashiki and khaki slacks. He is an African-American male, with a medium complexion, weighting approximately 140 pounds and 6 feet tall. He has no tattoos, but has a number of moles sporadically over his body. A report has been filed with the police. If you've seen McDougal or have any helpful information please call 312-747-4380.