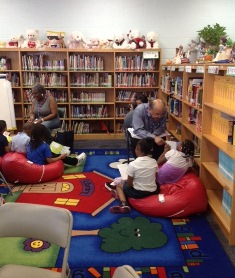 AARP Experience Corps D.C. ( www.aarp.org/ecwashingtondc) recently received a $75,000 grant to support a proven inter-generational reading literacy program currently offered in 75 classrooms within nine D.C. schools. The funding will help expand and strengthen program deliverables in the District. The City Fund from which the grant was awarded seeks to advance the three goals as outlined in Mayor Vincent Gray's One City Action Plan:

• Grow and diversify the District's economy
• Educate and prepare the workforce for the new economy
• Improve the quality of life for all

The AARP Experience Corps program taps D.C. adults, age 50 years and older, to help children become great readers by the time they finish third grade. The volunteers get extensive training prior to setting foot in the classroom and additionally throughout the year. A year-long commitment is required, as students thrive when they have the same tutors throughout the school year.

Struggling students aren't the only ones who win with AARP Experience Corps. People who volunteer with the program report that the work helps them stay physically and mentally active (93%) and increases their sense of purpose (92%). And of course, nothing beats the smile of a child who you've helped be successful.

Want to get involved? Experience Corps is recruiting now for the 2014-2015 school year. Learn more and sign up at www.aarp.org/ecwashingtondc.