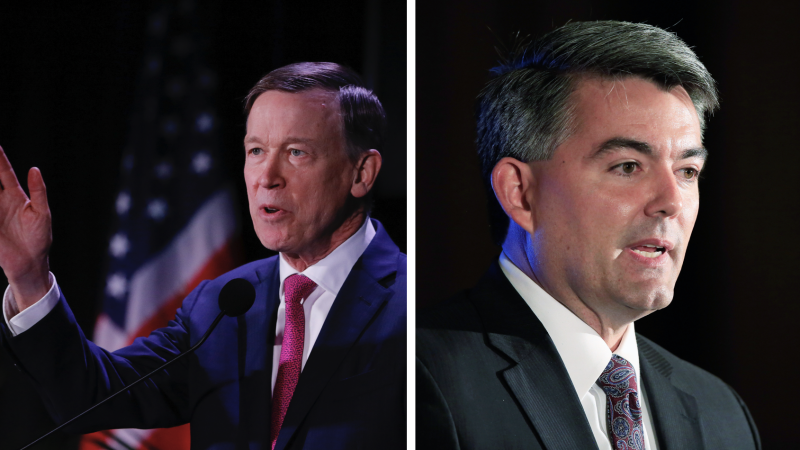 En español | Colorado's U.S. Senate race is tight this year, with freshman Republican Sen. Cory Gardner facing a challenge by former Gov. John Hickenlooper, a Democrat. To understand how they plan to protect Social Security and Medicare, stimulate the economy, lower prescription drug prices and ensure that Americans have access to affordable long-term care, AARP Colorado asked each candidate to answer five key questions in 60-second videos. Here are their responses, with transcripts:

1. Social Security is a self-financed, off-budget program that half of all seniors rely on for more than 50 percent of their income. If elected, how will you ensure that current and future Social Security benefits are not cut as part of deficit reduction?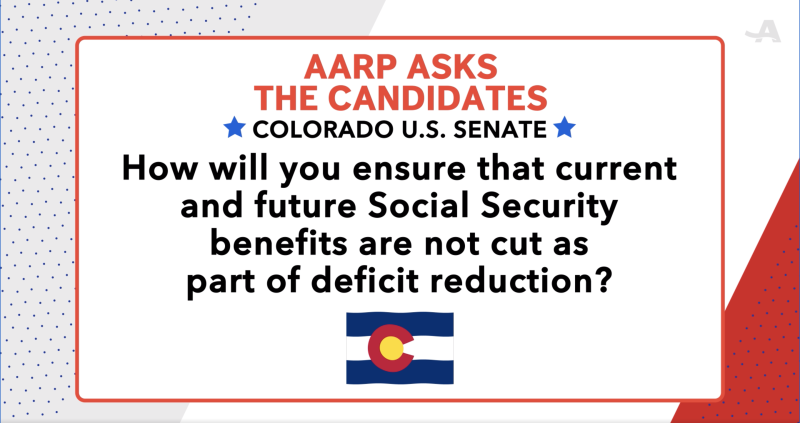 Question 1: Social Security
Gardner: I'm going to continue to protect Social Security. It's one of the most important social safety nets that we have as a country. Medicare and Social Security are two of the key things that we have for generations of Americans who have paid into them. And we have to make sure that they are safeguarded so they can continue to pay out to those people who have invested all of their lives into these programs. We need to make sure that people stop borrowing against the Social Security trust fund. They shouldn't be borrowing money from it to pay for unrelated things. So I'm going to continue to fight to protect Social Security. As we see in Colorado, where more and more Coloradans are tapping into Social Security, we need to make sure that their savings and their life earnings are protected.

Hickenlooper: If I'm elected to the U.S. Senate, I will fight to protect Social Security, oppose any attempt to reduce benefits and work to ensure that every senior can retire with dignity. Social Security is essential to our nation's safety net. It has helped reduce poverty among seniors by nearly two-thirds over the last 50 years. For many seniors, especially low-income Coloradans and Coloradans of color, Social Security is their only source of retirement income. And the rising costs of food, housing and transportation means that those dollars need to go even further. Social Security is an intergenerational promise between Americans that we will care for each other as we age. I take that commitment extremely seriously. We cannot balance the budget on the backs of seniors.

2. On average, health care already accounts for $1 out of every $6 spent by seniors. If elected, how will you protect Medicare from benefit cuts, lower health care costs and ensure seniors continue receiving the affordable care they have earned?

Question 2: Medicare
Hickenlooper: Everyone deserves access to high quality health care. Before Medicare, half of all seniors were uninsured. Now the program covers nearly all older Americans who earned this coverage through a lifetime of hard work. To help lower costs, I support allowing Medicare to negotiate with drug companies to get a better deal. It's astounding that they're currently not allowed to do so, and I'd work to change that on day one in the Senate. I will always stand up to protect Medicare and ensure seniors get access to health care they deserve and have earned.

Gardner: We need to continue as an overall health care policy to drive down the cost of health care and increase the quality of health care. I am committed to making sure that Medicare remains a viable strong safety net for Americans. We have to make sure that this important safety net program continues. One of the things I've been fighting against is to make sure that taxes don't increase the cost of health care. I've led the effort to eliminate the health insurance tax, which drives up the cost of health care. I've worked hard to eliminate the device tax, which drives up the cost of health care. That all inures to the benefit of people on Medicare, to making sure that we have a lower cost health care system while we protect Medicare for those who are in the system and those who are going into the system as we all age to 65. One of the things I want to fight against is 'Medicare for All,' which means that 20-year-old will be competing against somebody who is 65 and over. We have to make sure that we protect Medicare, and we have to make sure that it continues to be viable.

3. Unemployment during the coronavirus crisis reached the highest levels since the Great Depression, and older Americans have been disproportionately affected. If elected, how will you help Americans over the age of 50 recover economically from the effects of the coronavirus?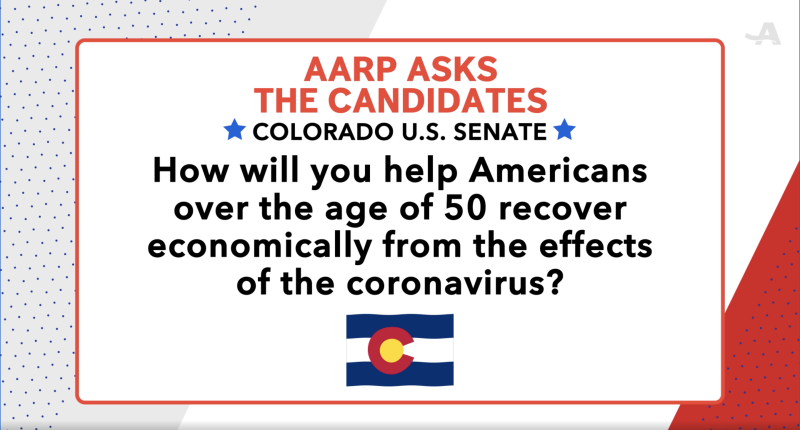 Question 3: Jobs and the Economy
Gardner: We need to make sure we focus on three things: addressing the pandemic — the health impacts itself — helping individuals get back on their feet through this time with unemployment insurance benefits and making sure they can meet their mortgage, pay their rent and making sure that we have an economy that snaps back. Those three things we have to do at the exact same time. I'm fighting hard to make sure that we have an economy that recovers, creating more jobs and more opportunities, especially for people who are 50 years of age and older. I've introduced a plan called the Rehire America plan that would actually help pay people, making sure that they are a part of the economy — that they're getting their salaries — and helping businesses get through this challenging time. So, together, we have to get through this. But we have to make sure that our economy gets back to its full force and strength.

Hickenlooper: As your senator, I will work tirelessly to help seniors recover from the economic impact of COVID-19. The oldest and youngest workers have been hit the hardest by layoffs related to the pandemic. And for older workers, it may be much more difficult to be rehired once the crisis has passed. In the short term, Congress should be supporting work-share programs so that seniors don't face permanent job loss, even if their employer is struggling. In the long term, Congress could do a lot to strengthen seniors' economic security. I support paid sick leave policies, which allow workers to stay home when they feel unwell. I oppose any cuts to the SNAP program, which provides critical nutrition support to low-income seniors. I was proud to expand rural broadband in Colorado as governor and will continue this effort nationwide so more seniors can work from home. I believe we should strengthen protections against age discrimination, which many seniors report having experienced in the workplace. And we should make it easier to save for retirement by creating portable retirement plans to help make sure we get through tough times like these.

4. Americans pay the highest prescription drug prices in the world. If elected, how will you cut prescription drug prices for all Americans?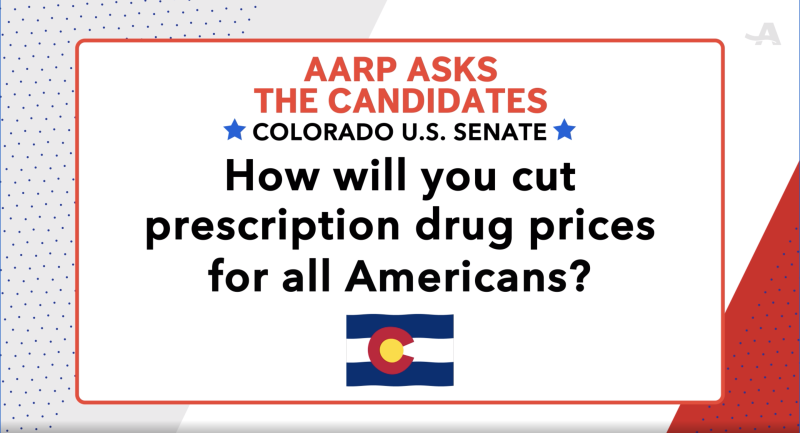 Question 4: Prescription Drug Prices
Hickenlooper: Coloradans are being ripped off by the high price of prescription drugs. Twenty-nine percent of Americans forgo medicine because of the cost. This is unacceptable. Congress has been taking direction from the pharmaceutical industry for too long, and the American public has suffered as a result. If elected to the U.S. Senate, I will fight to reduce the cost of prescription drugs. I believe that Medicare should be able to negotiate prices directly with drug companies. I think that Congress should explore the possibility of importing safe medicine from Canada. We can pass legislation requiring more transparency in drug pricing and curtailing significant increases in the price of both generic and specialty drugs. And Congress should investigate potential anticompetitive practices in the pharmaceutical industry. We simply need to find the courage to act. As your senator, I will.

Gardner: We know that a tremendous number of Coloradan families are skipping their prescriptions because of the costs, so we have to work hard to drive down the cost of prescription drugs and pharmaceuticals. It's why I've worked hard on several pieces of legislation to do just that — to increase competition to drive down costs. I've introduced a bill on price transparency that would help consumers be able to shop better for more affordable prescription drugs, getting them more information of the tools at their fingertips — tools to give them ways to make better decisions — and also legislation that would prevent the Big Pharma companies from denying generic status to certain drugs. Because we know that when a drug goes on generic, we can actually have more affordability. And more competition means more general affordability as well. So I'm going to continue to fight to lower prescription drugs just as I have.

5. COVID-19 has caused death and suffering for too many older Americans who require long-term care. If elected, how will you make sure seniors can access safe and affordable long-term care at home and in nursing homes and assisted living facilities?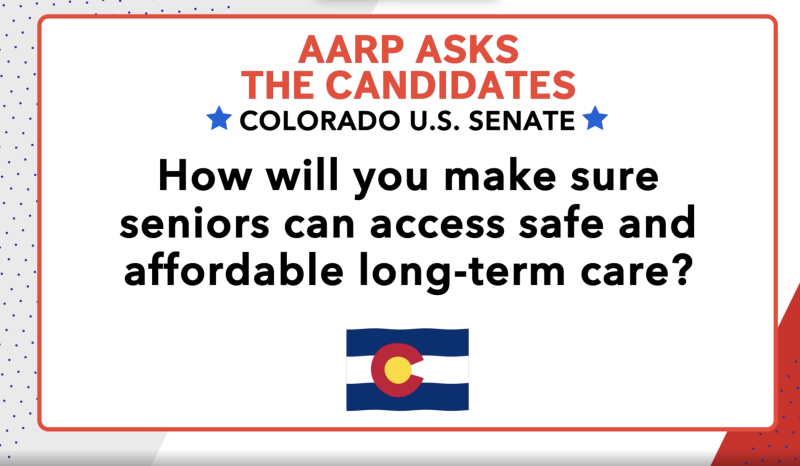 Question 5: Long-Term Care
Gardner: I live in a very small town. We're blessed to have a nursing home — a long-term care facility — and an assisted care facility. And I've had a number of my family members as residents of both of them. So we have to make sure that we continue to support them through policies such as Medicare, making sure that we support them through other ways to get funding into it: the personal protective equipment that they need, the testing that they need for COVID-19 for their residents, as well as their staff. I've also worked hard to promote additional dollars to the CARES Act — $10 billion for nursing homes, with additional dollars going toward their relief during COVID-19 so that they will be in place long-term. I've also worked hard to fight for reimbursement for telemedicine, telehealth visits through Medicare and other programs. Seniors who are able to receive care at home without having to go to the doctor will result in better care. So that's just one of the many ways that I will continue to fight for the health care that our seniors need as they age in our communities.

Hickenlooper: This pandemic has brought to light many of the underlying inequities in our health care system, and Washington's failures to prepare and take this virus seriously left older Americans, particularly those in facilities like nursing homes, vulnerable and endangered. By not securing adequate PPE and testing, this crisis has been far worse than it ever needed to be. I support strengthening programs that help seniors stay in their homes. By approving transportation options and controlling housing and health care costs, we can help more people live life on their own terms. And we need to strengthen protections for seniors in long-term health care facilities as well, while Washington Republicans are still doing everything they can to repeal and overturn the ACA, and with it its protections for people in nursing homes. Not only that, but many seniors depend on Medicaid for long-term care. I will always stand up for Medicaid and every person's right to access quality and affordable care.

Also of Interest