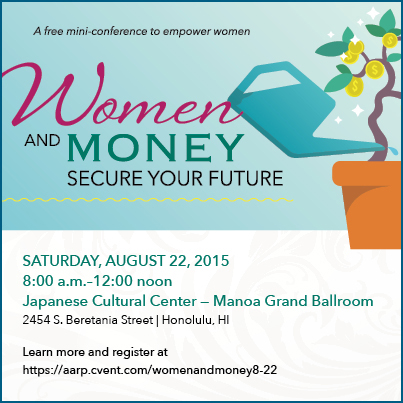 Studies show that Americans aren't saving enough for the future, and the risk of coming up financially short in retirement is especially real for Hawaii's women – who tend to live longer, earn less, and spend more time out of the workforce caring for family than their male counterparts.

AARP Hawaii is teaming up with partner organizations to present Women and Money, a half-day event providing information aimed at helping Hawaii's women make fact-based decisions to strengthen their financial future. The free mini-conference will take place at the Japanese Cultural Center's Manoa Grand Ballroom on Saturday, August 22 (8 a.m. – noon).

Event co-sponsors include Bank of Hawaii, the Honolulu Japanese Chamber of Commerce, American Association of University Women, Patsy Mink Center for Business & Leadership, and SBA Hawaii. Registration is required.

The program kicks off with a plenary session at 8 a.m. titled Ten Tips to Secure Your Future, featuring an ensemble of the day's speakers.

9:15 a.m. breakout sessions include:

Investment Basics for Women – by Cori Weston, JD and Sharon Nomura, MBA
Getting Your Documents in Order – by Janet Kelly, Esq
Maximize Your Social Security: Decisions to Make Before You Collect – Joanna Amberger, CFP
Entrepreneurship: Tips for Bringing Your Business to Life – by Mary Dale, SBA


10:45 a.m. breakout sessions include:

Effective Retirement Planning – by Roberta Lee Driscoll, CFP
Understanding Long-Term Care Insurance – by Wanistha Bahar, CFP
Women & Money: Seven Savvy Secrets for Financial Health – by Jodi Nozoe Chang, CFP
Entrepreneurship: Financing Your Own Business – by Mary Dale, SBA


AARP has a variety of free tools that can help you save and prepare for retirement. Find out how to maximize your Social Security benefits by using the Social Security Benefits Calculator.