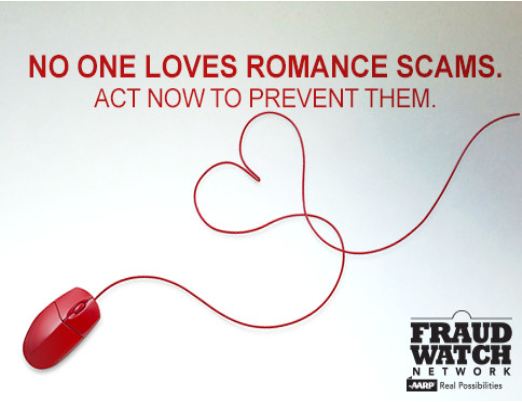 With romance scammers using the Internet to rob Americans of an estimated $81 million per year, AARP's Fraud Watch Network today called on the online dating industry to institute new safeguards to better protect their users. AARP Connecticut and local Fraud Watch partners are inviting members and the general public to become involved in the national campaign by signing an online petition.

"Individual scammers and highly organized groups attempt to steal hearts and wallets from online dating site users every day," said Nora Duncan, AARP state director in Connecticut. "Most sites don't yet do enough to protect their members from known scammers. Our petition asks the companies to take commonsense steps to help put a stop to online dating scams."

Demonstrating the ease with which online dating con artists currently operate, the June/July edition of AARP The Magazine contains the compelling story of one victim who was robbed of hundreds of thousands of dollars in a romance fraud.




https://youtu.be/2K5ORO3wm5A[/youtube]

The Internet Crime Complaint Center reported receiving more than 6,400 complaints with losses totaling $81 million regarding romance scams in just one year, 2013, its most recent annual information. To combat such losses, specific anti-fraud measures the Fraud Watch Network urges the online dating sites to implement include:

Employ algorithms to detect suspicious language patterns used by scammers.
Search for fake profiles across multiple dating websites.
Issue alerts to any member who has been in contact with someone using a fraudulent profile.
Educate members with tips on how to avoid romance scammers.


As part of its current campaign, the AARP Fraud Watch Network also recommends these tips for online dating site members to avoid online scams:

5 Tips to Avoid Online Dating Scams

1. Adopt an air of mystery. Don't provide your last name, your address or where you work until you've actually met -- and be wary of suitors who ask for any of this personal information too quickly.
2. Prevent cyber romance tracking. If you're using a mobile app, turn off your location settings so cons can't figure out where you're located.
3. Check photos. Many scammers perpetrate their crime by stealing people's photos and assuming their identities. Before you engage with anyone on a dating site, use Google's "search by image" feature to see if that person's image shows up in other places using a different name.
4. Verify that the person is real. Do an online search to see if the things you read match up with his/her claims. Is what you read on the person's Facebook, Twitter, LinkedIn pages consistent with what you're being told?
5. Use search engines to check out suitors. If you get a suspicious email, check it out. Cut and paste the e-mail into Google and see if the words pop up on any romance scam sites.



Connecticut consumers can learn more for themselves, their friends and family members by visiting www.aarp.org/fraudwatchnetwork.