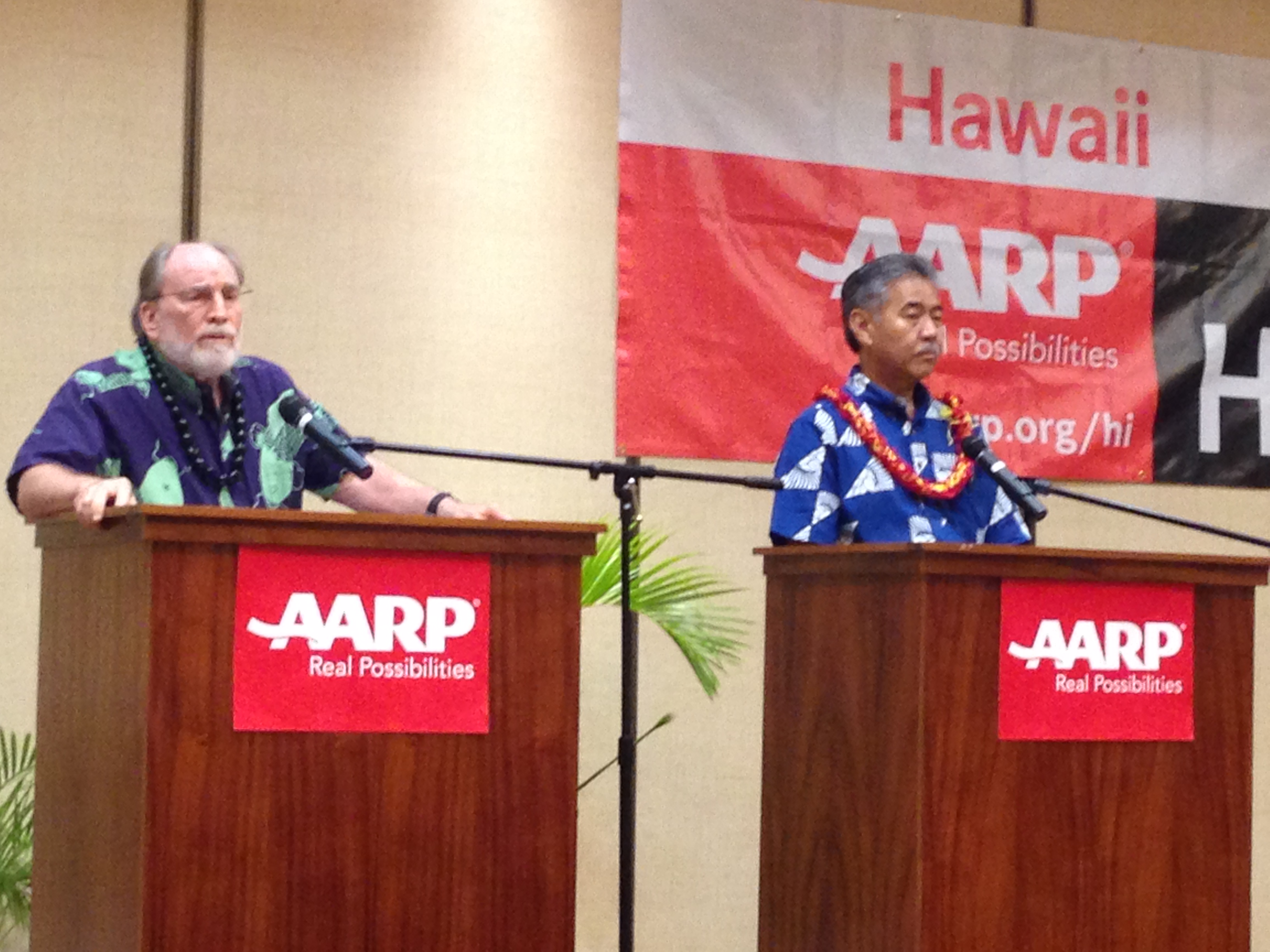 Democratic leaders in the race for governor met in an AARP-sponsored debate in Kona on Tuesday, July 29. During the one-hour session Gov. Neil Abercrombie and state Sen. David Ige sparred on a range of health care issues facing Hawaii's older residents and their families.

The debate was one of the last opportunities for voters to compare the candidates side by side prior to the August 9 Primary Election. Moderated by University of Hawaii journalism professor Gerald Kato, the questions ranged from the shortage of primary care doctors to what the state can do to ease the burden on Hawaii's 247,000 family caregivers.

In response to a question about the need to address an estimated 34 percent shortfall in the number of physicians needed on Hawaii Island alone, Abercrombie talked about establishing nursing schools across the university system statewide and offering more scholarships at the John A. Burns School of Medicine. Ige emphasized the importance of increasing the number of residency programs on the neighbor islands to encourage new doctors to establish practices in areas where medical care is needed.

Both candidates pledged to support legislation that would require hospitals to provide live instruction to family caregivers who assist their loved ones at home after they're discharged. A recent study by AARP's Public Policy Institute found that as people live longer, family caregivers are called on to provide increasingly complex care – such as injections and wound care – for which they are often untrained and unprepared.

The candidates also agreed on the need to increase the budget for Kupuna Care, the state-funded, county administered program that supports caregivers and their families by providing services that allow them to remain in their homes and communities as they age. AARP has fought to increase Kupuna Care funding, as the program helps seniors on fixed incomes from having to impoverish themselves in order to get help with activities of daily living – such as personal grooming, chore services and transportation.

The debate was part of AARP's voter education outreach to inform members and the general public about candidates' position on issues so they can choose candidates that best represent their views and values.

AARP is a nonprofit, nonpartisan organization with nearly 150,000 members in Hawaii. AARP helps people turn goals and dreams into real possibilities, strengthens communities and fights for the issues that matter most to families such as healthcare, employment and income security, retirement planning, affordable utilities and protection from financial abuse.