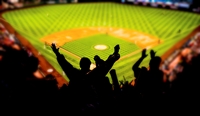 Enjoy a late summer day and connect with family, friends, fellow AARP members and fans at select Brooklyn Cyclones games in September. Discover all the Real Possibilities you can explore with AARP in New York City before the games at the AARP table on the promenade.

AARP members and their guests can cheer on the Cyclones at MCU Park, 1905 Surf Avenue in Brooklyn, NY, 11224 during the following three games*:

Saturday, September 5 at 6 p.m.
Sunday, September 6 at 1 p.m.
Monday, September 7 at 5 p.m.

Tickets may be purchased online** using the password: Summertime.

*AARP members and guests receive discounted tickets on Field Box seats ($15), box seats ($13), and bleacher seats ($8).

**This is not an AARP event. Any information you provide to the host organization will be governed by its privacy policy.