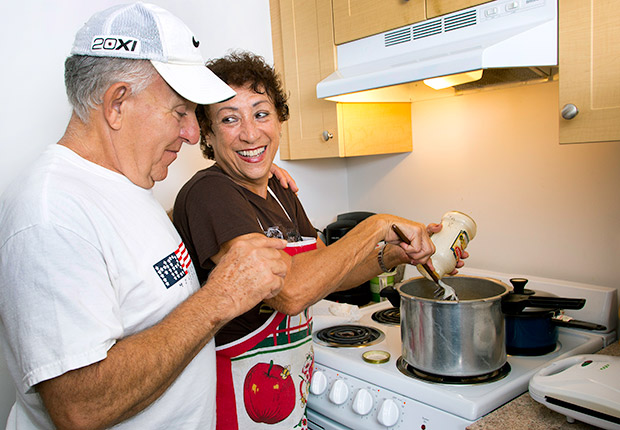 Bernardo y Fabiola Hernández preparan la cena en su apartamento de Miami Beach. — Foto: Josh Prezant.

Bernardo y Fabiola Hernández acudieron a Unidad de Miami Beach, una organización de servicio comunitaria, buscando ayuda.

Fabiola, de 70 años, llevaba una carpeta de documentos que demostraban que ella y su marido reciben solamente $51 por mes en cupones para alimentos. Una hoja impresa listaba los beneficios mensuales del Seguro Social combinados de ambos, de apenas $1,317.

Pero la evidencia más determinante de su necesidad era la advertencia de su médico: ambos estaban anémicos.

"Comemos carne solamente una vez al mes", dijo Bernardo, de 73 años. "Después de pagar nuestras cuentas, el alquiler, el seguro del auto, no nos queda lo suficiente para poder comer".

Alrededor de 1 de cada 6 residentes de Florida de 50 años o más están expuestos a pasar hambre debido a la escasez de recursos, según una encuesta llevada a cabo este año por University of Central Florida y AARP Foundation.

AARP Foundation patrocinó la encuesta luego de que la oficina estatal de AARP en Florida coauspiciara la Senior Hunger Summit, una cumbre sobre el hambre entre los adultos mayores, y descubriera que se necesitaba información más confiable.

Los resultados de la encuesta reflejan lo que sucede en todo el país. Una encuesta del 2012 realizada por la National Foundation to End Senior Hunger (Fundación Nacional para Terminar con el Hambre entre los Adultos Mayores) halló que el 15.3% de las personas mayores de 60 años se encontraban en riesgo de sufrir hambre, y que la cifra global se había incrementado casi un 50% desde el 2008.

Muchos adultos mayores que no están listos para jubilarse dicen que la economía los ha hundido en la pobreza.

Oscar Díaz, de 60 años, de Miami Beach, está participando de un programa de recapacitación para personas adultas mayores desempleadas en Unidad. Él y su esposa perdieron sus empleos hace más de un año. Antes de que su esposa volviera a encontrar trabajo —lo que sucedió hace poco—, les resultaba difícil juntar suficiente dinero para comprar alimentos.

"Le agregábamos un poco más de agua a los frijoles", contó Oscar. "Para Navidad… conseguimos pavos gratis. Si podemos recibir algunos regalitos de aquí y de allá, eso ayuda".

AARP Foundation se unió a los Miami Dolphins, incluidos varios exjugadores, y organizó, hace algunos sábados, un evento en el que se empacó 1 millón de comidas nutritivas para bancos de alimentos locales. Pero los proveedores de servicios sociales sostienen que la necesidad sigue en aumento.

La financiación no se mantiene al día

Por primera vez en tres décadas, el año pasado, Mark Adler, director ejecutivo de Broward Meals on Wheels, tuvo que preparar una lista de espera. Su agencia, que alimenta a 10,000 adultos mayores anualmente, tiene alrededor de 200 personas en lista de espera.

"¿Qué necesito? Necesito más fondos", sostuvo Adler. "La necesidad aumenta exponencialmente y la financiación está estancada, no se actualiza a la par de la creciente población adulta mayor".

Mucho del dinero destinado a Meals on Wheels llega a través de la Older Americans Act (Ley de estadounidenses mayores), pero el AARP Public Policy Institute halló que el financiamiento federal se ha mantenido casi sin cambios por una década.

Muchos de los clientes de Adler son como Patricia Clark, de 85 años, de Plantation: viuda, vive sola, y no tiene familiares cerca. A pesar de que compró su condominio en efectivo cuando se jubiló, tuvo que hipotecarlo para complementar su Seguro Social. En los últimos años, ha sufrido una serie de problemas de salud graves, que incluyeron fracturas de cadera y espalda.

Ella tiene dificultades para pagar la hipoteca, la cuota de mantenimiento del condominio y los copagos de su última hospitalización. Sin los envíos semanales de Meals on Wheels, no sabe bien cómo haría para comer.

"Sencillamente, tendría que renunciar a algo, supongo", dijo, y agregó que su peso cayó de 120 a 97 libras en los últimos años, y que sus médicos quieren que coma más.

El solo hecho de estar expuesto a sufrir hambre tiene consecuencias para la salud, notó Jennifer Sauer, asesora de investigación sénior en el AARP Research Center. El 30% de los encuestados que reunían los requisitos para ser considerados en riesgo, de acuerdo con la definición federal, dijeron que su estado de salud era entre regular y malo, en comparación con el 16% de todos los floridanos.

El hambre afecta a todas las edades. La encuesta de AARP halló que el 18% de los floridanos están en riesgo de sufrir hambre. Broward Meals on Wheels ayudó a servir 27,000 comidas a 937 niños necesitados el último verano.

"Supongo que, si haces algo bien, definitivamente debes repetirlo", señaló Adler.

Lee más sobre cómo manejar mejor tus finanzas en nuestro canal de Dinero.