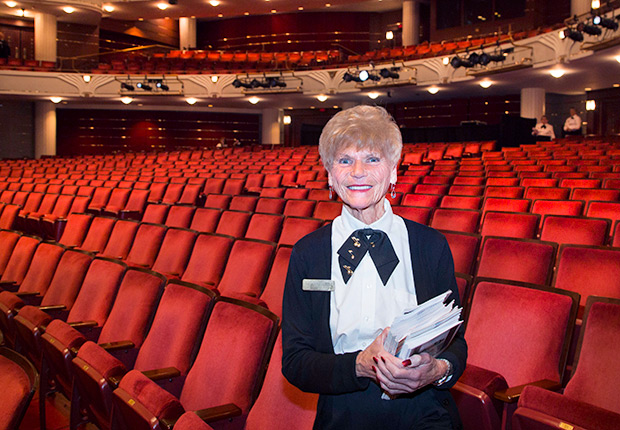 Por Susannah Newsmith

Para Sonia Bittner, profesora de matemáticas jubilada de 81 años de edad, quien trabaja como acomodadora voluntaria en el Kravis Center for the Performing Arts de West Palm Beach, ofrecerse como voluntaria para ser acomodadora en el evento nacional para socios de AARP previsto para mayo, era una opción natural.

"Simplemente, nos gusta hacer este tipo de cosas", comenta la residente de Boynton Beach. Su marido, su hermana y su cuñado también asisten regularmente a los eventos nacionales de AARP y se ofrecen como voluntarios para recibir y acomodar a las personas que concurren a los espectáculos. "Tengo cuatro o cinco camisetas de los diferentes eventos en los que hemos sido voluntarios", agrega.

Se espera que el Evento y Exposición Life@50+, que se llevará a cabo en el Miami Beach Convention Center (Centro de Convenciones de Miami Beach) del 14 al16 de mayo, atraiga a más de 10,000 socios de AARP a talleres, charlas y conciertos.

Muchas de estas personas necesitarán de alguien que los oriente. AARP está buscando voluntarios para que actúen de anfitriones, acomodadores en los conciertos y guías apostados en los corredores del centro de convenciones para ayudar a los asistentes a encontrar su camino. Los voluntarios trabajan por turnos. El resto del tiempo, pueden asistir libremente a las presentaciones.

Uno de los puntos destacados de este año será la disertación a cargo de Robin Roberts (en inglés) copresentadora del programa Good Morning America de la cadena ABC, que obtuvo cuatro Premios Emmy como Mejor Programa Matinal bajo su conducción.

También está en el programa el actor, autor, economista e ícono de la cultura pop Ben Stein, (en inglés) quien representó al aburrido maestro en Ferris Bueller's Day Off (El día libre de Ferris Bueller), redactó discursos para los presidentes Richard Nixon y Gerald Ford, y recientemente escribió una serie de libros de autoayuda con tono humorístico, How to Ruin Your Life (Cómo arruinar tu vida).



Mucho para hacer

Además de los discursos de apertura, el evento presenta sesiones sobre salud y bienestar, trabajo y dinero, tecnología e innovación, y viajes y estilos de vida, además de arte y cultura. Y el siempre popular festival de cine "Movies for Grownups".

Suzanna Marcom, de 70 años, trabajó dos turnos en el evento de Orlando hace cinco años, lo cual le dejó mucho tiempo para asistir a las presentaciones.

"Quieren que tengas tiempo para asistir a las presentaciones y escuchar las disertaciones", explica. "Intentan no recargar demasiado a la gente. Van rotando a los voluntarios".

Jubilada de una carrera en el campo de la tecnología, hoy es presidenta del capítulo de Winter Park de AARP. Ella y un grupo de amigos planean alquilar una camioneta para 10 pasajeros y conducir desde Winter Park hasta Miami para el evento de este año.

Una de sus amigas, Marie Hernandez, de 70 años, tuvo su primer contacto con los programas de AARP cuando asistió al evento de Orlando en el 2010 y sirvió como voluntaria.

"Conocí a AARP a través del evento de Orlando", comenta. "Quería estar ahí y ver qué podía hacer para ayudar".

Ahora es vicepresidenta del capítulo Winter Park y actúa en toda clase de campañas de AARP. Está deseando que llegue el evento de Miami y planea volver a ofrecerse como voluntaria. "Ofrecen grandes conciertos y disertantes", explica la consejera escolar jubilada. "Me interesa escuchar a Robin Roberts, y tienen música fabulosa".

AARP también auspicia oportunidades de voluntariado del Día de Servicio Comunitario durante todo el evento.

En exposiciones anteriores, Karen Roberts, de 66 años, de Yakima, Washington, ha montado tarjetas pedagógicas para las escuelas primarias de San Diego y clasificado collares de Mardi Gras para que sean reciclados en Nueva Orleans. Ella y muchos amigos se empeñan en ir juntos a los eventos y en servir juntos como voluntarios.

"Vemos a los viejos amigos y hacemos nuevas amistades", explica. "Es una de las cosas que realmente disfruto: la gente que va, y en especial, los que se ofrecen como voluntarios".

Para obtener más información sobre el evento, visita aarp.cvent.com/MiamiLife50.

Los organizadores del evento están buscando algunos cientos de voluntarios. Puedes registrarte en la página de eventos. AARP necesita voluntarios que empiecen el 13 de mayo, el día anterior a que comience el evento.

Si bien no todos tienen que ser como Sonia Bittner, que corre todos los días unas millas y participa todos los años de la carrera Susan G. Komen Race for the Cure, los voluntarios de los eventos deberían estar preparados para estar de pie o caminar unas pocas horas cada vez.

"Servir de voluntario es algo muy sencillo", concluye.

Lee más sobre temas que te interesarán en nuestro canal de Entretenimiento.