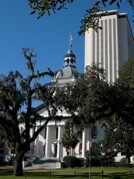 Expanding access to affordable quality health care and fighting to protect consumers and vulnerable seniors are part of AARP's legislative focus in 2014, AARP Florida State Director Jeff Johnson announced today.

"For AARP's 2.7 million members in Florida, the 2014 legislative session offers opportunities to expand access to affordable quality health care for those struggling to find it, to protect vulnerable residents of assisted-living facilities and nursing homes, and to fight for consumers and utility ratepayers," said Johnson.

Johnson added: "After the legislative session, we will help Florida voters 50+ gain access to the information they need to hold state elected officials accountable for their legislative actions."

AARP Florida's legislative priorities include:

- Expanding access to health and long-term care services for more than 900,000 low income Floridians now struggling to obtain quality care, including more than 260,000 Floridians age 50

- Enlisting AARP members and other Florida residents as "watchdogs" to spur managed-care companies and the state to provide high-quality, accessible and well-coordinated care for Floridians covered under Florida's Medicaid managed-care reform initiative. Thousands of older Floridians receiving long-term care through Medicaid will be required to join managed-care plans as part of the state's reform plan. Managed-care advocates have said that the shift from traditional to managed care will improve the quality and coordination of care. "AARP Florida will work to help Floridians surface any concerns to state officials," Johnson said. "It's very important that those providing care under Medicaid in Florida be held to account in this reform."

- Enacting reforms to better protect residents of assisted living facilities. A Miami Herald expose three years ago outlined serious lapses in care in assisted living facilities, and a state task force recommended needed reforms. To date, legislators have failed to enact reform legislation. AARP also opposes any move to diminish the authority or responsibilities of volunteer Long-Term Care ombudsmen, who serve as watchdogs to help protect the quality of care and safety of nursing-home and assisted-living facility residents.

- Increasing state funding for cost-effective senior programs, like Community Care for the Elderly, which provides services to frail Floridians so they may continue to reside at home rather than in long-term care institutional facilities.

- Funding for vision, dental and hospice care for Medicaid service recipients.

- Safeguarding affordable utility rates and increasing legislative and regulatory oversight of fees charged by utilities to finance nuclear power plants that may never be built.

- Strengthening consumer protections against fraud and scams, particularly those targeting seniors.

- Dedicating affordable-housing tax revenues to affordable housing. In recent years, state legislators have diverted these funds to other purposes.

AARP Florida will track legislative votes on key bills important to Florida voters 50+. After the Session, AARP Florida will publish a legislative voting record so that Floridians 50+ will have the details they need to hold state elected officials accountable for their votes on these key issues.