FOR IMMEDIATE RELEASE
Feb. 5, 2019
CONTACT: Dave Bruns, AARP FL, 850-577-5161, 850-228-2759, dbruns@aarp.org

AARP Congratulates the 2018 Class of Elected Officials Who Champion Caregivers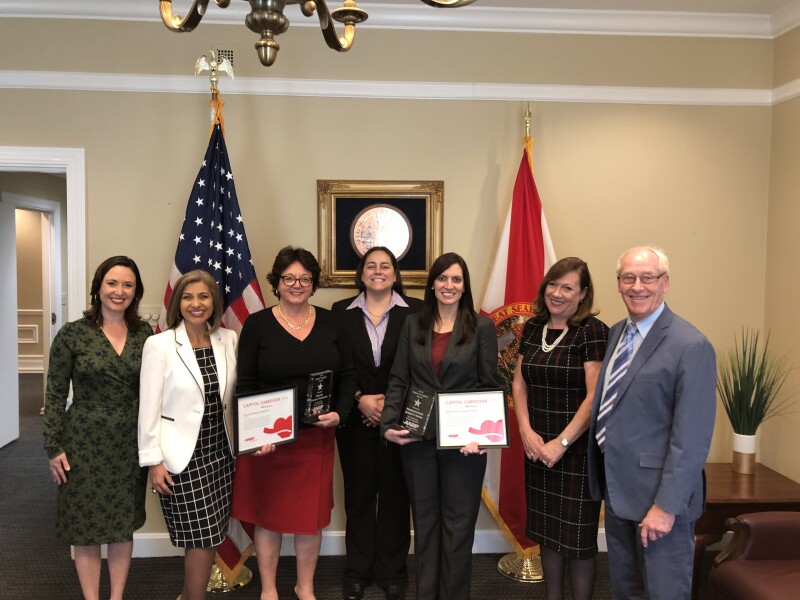 TALLAHASSEE, Fla. – To honor their work supporting Florida's caregivers, AARP has named Lt. Gov. Jeanette Nunez and Senate Majority Leader Kathleen Passidomo as Florida's 2018 "Capitol Caregivers," a bipartisan group of 65 elected officials from 24 states.
These leaders have advanced policies that support Florida's caregivers and help them to provide support for their children, parents, spouses, neighbors, and others live independently at home and in their communities.
"AARP thanks Lt. Gov. Nunez and Senate Majority Leader Passidomo for championing, respectively, legislation related to Hurricane Disaster Response and Recovery for caregivers and the Guardianship provisions will allow courts to conduct audits of guardianship records if there are reasons to believe misconduct has occurred," says Jeff Johnson, AARP's Florida state director. AARP has more than 2.8 million members in Florida.
"Working on behalf of Florida's most vulnerable in our communities is a priority for Gov. DeSantis and me," said Lt. Gov. Nunez, formerly chair of the House Select Committee on Hurricane Disaster Response and Recovery says. "I am humbled and honored to have received this recognition from AARP. I applaud and commend the invaluable service that caregivers everywhere provide."
Senate Majority Leader Passidomo, Senate sponsor of last year's legislation better protecting older Floridians in guardianship cases, added: "It's an honor to be recognized alongside Lt. Gov. Nunez. I'm looking forward to continuing the work of protecting Florida's most vulnerable with my colleagues in the Senate."
Across Florida, more than 2.67 million Floridians provide unpaid health, long term care, and financial support for their older parents, spouses and children with disabilities and illnesses. The value of their caregiving is more than $29 billion annually."Every day, family caregivers provide invaluable care and financial assistance to their loved ones," Johnson said. "And caregivers need our support."
AARP presented the Capitol Caregivers awards to Lt. Gov. Nunez and Senate Majority Leader Passidomo at the Florida Capitol on Monday Feb. 4, 2019.
"The work of these Capitol Caregiver leaders represents significant steps in the right direction to provide help for caregivers," Johnson said. "AARP Florida will continue fighting for caregivers and their loved ones in 2019."

# # #
About AARP
AARP is the nation's largest nonprofit, nonpartisan organization dedicated to empowering Americans 50 and older to choose how they live as they age. With nearly 38 million members and offices in every state, the District of Columbia, Puerto Rico, and the U.S. Virgin Islands, AARP works to strengthen communities and advocate for what matters most to families with a focus on health security, financial stability and personal fulfillment. AARP also works for individuals in the marketplace by sparking new solutions and allowing carefully chosen, high-quality products and services to carry the AARP name. As a trusted source for news and information, AARP produces the world's largest circulation publications, AARP The Magazine and AARP Bulletin. To learn more, visit www.aarp.org or follow @AARP, @AARPFL and @AARPadvocates on social media.