St. Petersburg, Fla. –Annette Bellingar has been selected to receive the 2018 AARP Florida Andrus Award for Community Service -- AARP's most prestigious and visible state volunteer award for community service.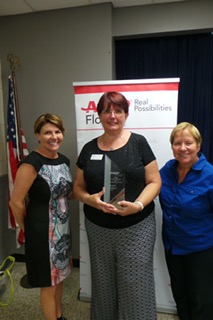 AARP Florida selected Bellingar for her remarkable service which has benefited her community, supported AARP's vision and mission, and inspired other volunteers.

She has been a leader in the GFWC Lutz-Land O' Lakes Women's Club, currently serving as first vice president. In her work with the women's club, she has spearheaded an effort to provide audio devices to elder-care facility residents suffering from dementia, in an effort to provide music therapy. She also has been a dedicated volunteer for the club, working in a wide range of projects to benefit the community.

Bellingar has been recognized for outstanding service as a volunteer ombudsman with the Florida Long-Term Care Ombudsman program, through which volunteers advocate for residents of nursing homes, assisted living facilities and other elder-care facilities. In 2017, she received the Ombudsman program's "Ombudsman of the Year" award.



While maintaining serious business day-to-day, Bellingar has a wonderful sense of humor. She calls Bingo for the Woman's Club often and in the course of doing that, teaches the British Version. For example, on B2, everyone shouts "Quack", on I22, everyone shouts "Quack, Quack."

The award was formally presented to Annette Bellingar at the ceremony on November 15, 2018.

"This award symbolizes for Floridians of all ages how we can work together for positive social change," says Jeff Johnson, Florida State Director. "AARP has long valued the spirit of volunteerism and the important contributions volunteers make to their communities, neighbors, and the programs they serve."

Recipients across the nation were chosen for their ability to enhance the lives of AARP members and prospective members, improve the community in or for which the work was performed, and inspire others to volunteer.