March 2018
AARP Community Challenge Grant in Town of Cutler Bay
The AARP Community Challenge Grants were launched in 2017 by AARP as a way of investing in communities across the nation to facilitate projects that would improve the lives of the people living in them. Over 1,200 grant applications were received, 46 of them from Florida alone; 89 projects granted and $780,000 in grant funds awarded. Each project was partially or fully funded through the AARP Community Challenge Grants. Florida awarded three grants: A Safe Streets Pop Up in St. Petersburg, a Walk & Roll event in Ft. Myers in collaboration with Franklin Park Elementary, and the Cutler Ridge Park Fitness Circuit in the Town of Cutler Bay.
All of the winning projects in this challenge delivered on one or all of the following:

Improve social connections through the built environment benefiting people of all ages and abilities in the community.
Expand opportunities for all residents, such as job, volunteer, and educational/training opportunities.
Drive inclusive community engagement and interaction across a diverse population.
The Town of Cutler Bay held a ribbon cutting ceremony this week in Cutler Ridge Park to officially invite the community to visit the park and utilize its newly installed fitness equipment. A lot of thought was given to the selection and placement of the exercise equipment to maximize access and ease of use. The four pieces of equipment are under a canopy to guard against the south Florida heat and rain, and three of them are wheel chair accessible. The area is easily reached from the parking lot, next to the community pool, and oversee a wide green area of the park.
Town of Cutler Bay Mayor Peggy Bell, Vice Mayor Sue Loyzelle, former Vice Mayor Ernie Sochin, Town Manager Ralph Casals, and several members of the Town's community advisory community were present to share the new installation with community residents. "This project is the perfect combination of our efforts to increase available services to our active adult community, and our efforts to increase access to fitness amenities throughout the Town. I appreciate the AARP for recognizing our commitment, and partnering with us to install this fitness circuit," stated Mayor Peggy Bell.
"AARP FL is very pleased to see the inclusiveness and thought to detail put into the Town of Cutler Bay's active adult exercise circuit, creating a safe and welcoming space for adults of different abilities to be active. It is our hope that other communities are inspired to apply for Community Challenge grants in 2018, " said Victoria Funes, Associate State Director, AARP Florida.
---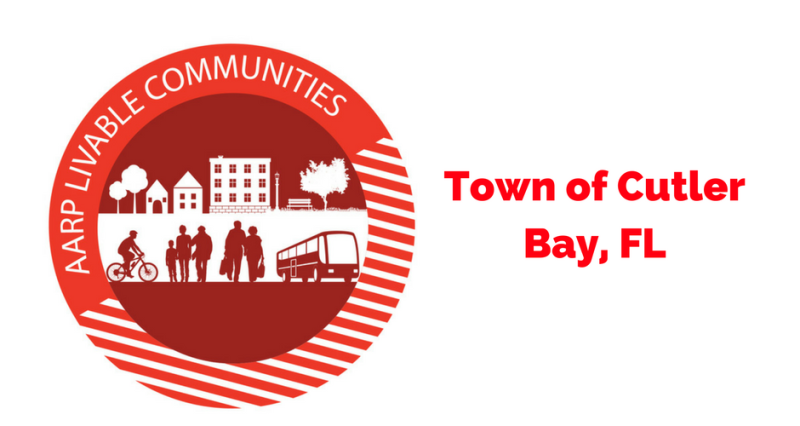 September 2016
Three words will make you want to live in the Town of Cutler Bay: Golf. Cart. Rodeo. (Must see video below)
Incorporated in 2005, Cutler Bay has distinguished itself from its northern metropolis neighbor -- Miami. Although the town has yet to enter into its teenage years, it has accomplished a lot in a short amount of time, civic wise, thanks to its forward-thinking commission and city leaders.
In 2013, the town surveyed community seniors asking what services and amenities they needed and wanted.
"My definition of age-friendly was a whole lot different than it is now" Town Manager Rafael Casals says. What they found out, much like most communities would if they asked their own seniors, that the retirees and seniors in Cutler Bay want to remain in their home, have reliable public transportation, access to cultural events and social activities.
But as you can imagine, the Cutler Bay activity isn't your standard bingo game. They ratchet it up a notch or two. Example: Aforementioned rodeo.
"It's no longer 'I want to go there to play bingo kind of activity,'" says Sue Ellen Loyzelle, Cutler Bay Town Councilwoman. "Baby boomers want to do more. More trips. More walks. We're going to empower them to help us design it and programming."
Loyzelle said survey proved seniors would be more apt to doing social activities if they were international. So as a part of their town master plan, they are moving to have playgrounds and senior centers closer and have the community centers instead serve as intergenerational activity centers. The kids help the seniors with smart-tech; the seniors teach the kids to dance. "It's careful balance to maintain programming for seniors, adults and teens."
And it has been a phenomenal success!
https://www.youtube.com/watch?v=kN8cmxFyNwI[/youtube]