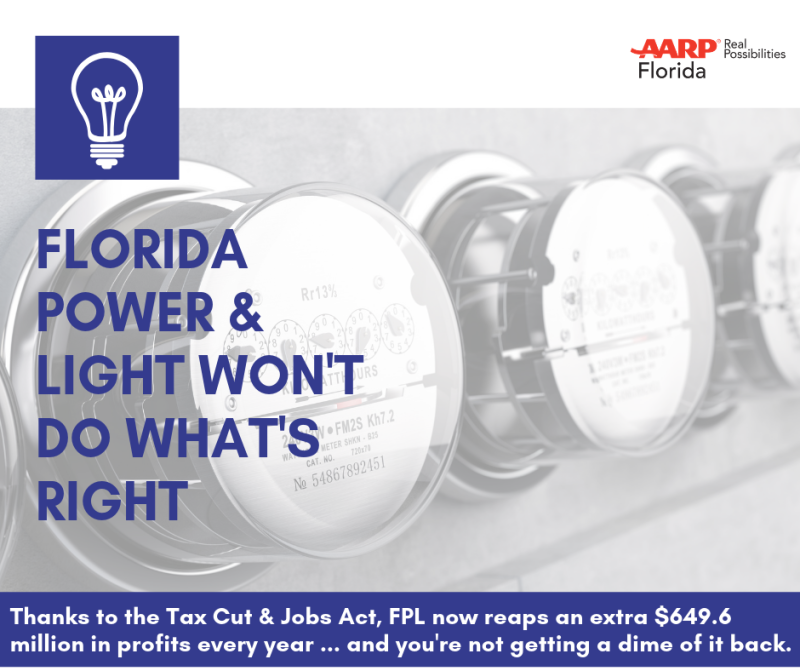 The Tax Cut and Jobs Act of 2017 significantly lowered the corporate income tax rate from 35 percent to 21 percent for all corporations, including investor-owned utilities like Florida Power & Light (FPL). Under the new corporate tax structure, FPL is receiving a massive financial windfall to the tune of $649.6 million annually. Instead of returning these savings to its ratepayers, FPL prefers to use an accounting method that benefits its shareholders, not its customers.
Other Florida investor-owned utilities — Duke Energy, Tampa Electric Company, Florida Public Utilities Corp.— committed to permanent customer bill reductions once hurricane costs were paid. Gulf Power lowered rates without hurricane costs.
Not FPL! They prefer to keep all of the excess tax savings for the benefit of their shareholders. FPL should not be permitted to be the only Florida investor-owned utility to keep millions of dollars in excess tax savings—at the expense of its customers.
AARP estimates that if FPL were to lower its rates as it should, that would save FPL's customers more than $6 monthly on their bill—about $75 in savings a year for each household. For Floridians, every dollar counts, especially those on fixed incomes.
Insist that the Florida Public Service Commission require FPL to return its excess profits to you, the customer, and lower its rates accordingly. Let the commissioners know how savings will help you.

TAKE ACTION

If you are an FPL customer, you can contact the PSC Clerk two ways:
1) Via email using this form where you can create your own message.
2) Mail a letter to:
Carlotta Stauffer
Commission Clerk
Florida Public Service Commission
2540 Shumard Oak Blvd.
Tallahassee, FL 32399-0850
Be sure to include: a) your first and last name; b) address where you receive FPL service; and c) the docket number 20180046 on your testimony so that it can be included for consideration.
Thank you for helping us fight for all Florida consumers!