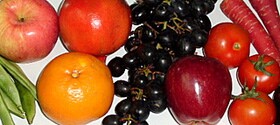 AARP is promoting the availability of fresh fruits and vegetables at three stores in low-income neighborhoods in Jackson. The goal is to encourage healthier eating at places where fresh produce is rarely available for sale.
A recent health ranking of 82 of Michigan's 83 counties rated Jackson County 61st, with above-average rates of obesity and inactivity.
"Many people in these neighborhoods don't own cars, so their local convenience store might be the only option for buying groceries," said Andrew Farmer of AARP Michigan.
Shoppers will find fresh fruits and vegetables at Greenwood Food Market, Keyes Party Store and Stop One in Jackson.
Photo by nutrilover / Flickr