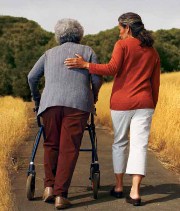 Caring for frail or ailing loved ones carries a high cost, both in hours spent tending to their needs and in the emotional and physical toll on family caregivers. AARP Georgia will address these issues at a statewide conference, The Cost of Caregiving, on May 15 in Atlanta.

As many as 200 long-term care professionals are expected to attend. The three-hour event will feature a panel discussion on the financial and emotional impacts of caregiving, as well as the economic implications of in-home care versus assisted living.

Nearly 62 million Americans provide informal caregiving to a family member or friend who is ill, frail or disabled, according to the AARP Public Policy Institute. About 2 million Georgians serve as unpaid caregivers, and they provide more than 1.3 million hours of service per year, valued at more than $13 billion.

To find resources for caregivers, go to aarp.org/caregiving.