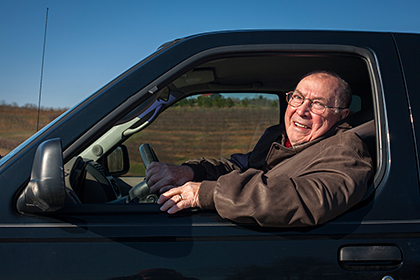 By Don O'Briant
James Veal has been driving for six decades, but after taking the AARP Smart Driver Course in January, he found that even experienced drivers can learn something new.

"I took the old AARP Driver Safety Course about three years ago and thought this one would be much of the same," said Veal, 75, of Blue Ridge. "But it had more details about city driving and how physical problems affect your driving. It taught me a lot of things I had never considered."

Launched this year, the AARP Smart Driver Course is a new version of the AARP Driver Safety program 55 Alive that debuted in 1979. It was developed based on research from Eastern Virginia Medical School to help drivers 50 and older keep up with driving laws and technological changes.

Ralph Szweda, 81, chief trainer of AARP Driver Safety in Georgia, said the updated version has an easy-to-follow format and covers topics such as pavement markings, roundabouts and stop-sign compliance as well as adjusting to aging and health issues that affect driving ability. The course includes safety issues such as seat belt and turn signal use.

"There's also more emphasis on maintenance," said Szweda, of Forsyth County, who has taught more than 100 classes in the last 14 years. "You should do a 360-degree scan of your vehicle, check your oil and tires and adjust your mirrors before you leave the driveway."

Other tips include keeping a safe distance between vehicles and becoming a proactive rather than a reactive driver.

"You have to be totally focused," Szweda said. "You can't allow yourself to become distracted by someone tailgating you, or getting cut off in traffic. If you become annoyed, you can't concentrate on your driving."

Even seemingly minor things can be a distraction, Veal said. "If you've got someone in the back seat talking and you're trying to pay attention, it ruins your concentration. And so many people don't realize how physical problems such as back pain and stress affect them. In class we talked about exercises for your shoulders and neck to keep alert. It's easy to doze off when you get fatigued."

Saving on premiums
The course, which takes up to eight hours, also saves drivers money while improving their skills. Karen Cooper, AARP Georgia associate state director for community outreach, said a recent survey showed that state drivers who took the approved course saved an average of $108 a year in insurance premiums. The state is one of about three dozen that require insurance companies to give discounts for completing a driver safety program.

In Georgia, the discount is up to 10 percent for three years and can be extended with a refresher course. Online classes also are available, but insurance discounts are optional. Check with your insurer.

Last year, 17,207 drivers in Georgia completed the class at 920 sites and another 5,969 took the online course. Cooper hopes to add to that number at the 2014 Atlanta Motorama event April 26-27 at Atlanta Motor Speedway, with volunteers providing safety tips and signing up drivers for classes.

Open to drivers of all ages, classroom courses cost $15 for AARP members, $20 for nonmembers. Online classes are $17.95 for members and $21.95 for nonmembers. April is National Distracted Driving Awareness Month. The online course is 40 percent off from April 1 to April 30 with the promotion code APRIL40. To register for the online course, go to aarpdriversafety.org.

For more information or to find a course, go to aarp.org/drive or call 888-227-7669 toll-free.
Don O'Briant is a writer living in Lilburn, Ga.