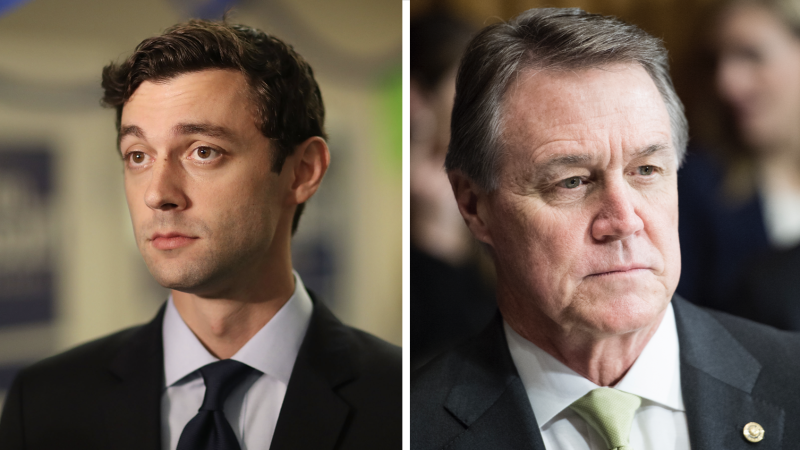 En español | Both of Georgia's U.S. Senate seats are headed to a January runoff, with the winners deciding whether Republicans or Democrats control the upper chamber in the next Congress.

One race will feature a rematch between incumbent Republican Sen. David Perdue and Democratic challenger Jon Ossoff. To understand how they plan to protect Social Security and Medicare, stimulate the economy, lower prescription drug prices and ensure that Americans have access to affordable long-term care, AARP Georgia asked each candidate to answer five key questions in 60-second videos. Here are their responses, with transcripts.

1. Social Security is a self-financed, off-budget program that half of all seniors rely on for more than 50 percent of their income. If elected, how will you ensure that current and future Social Security benefits are not cut as part of deficit reduction?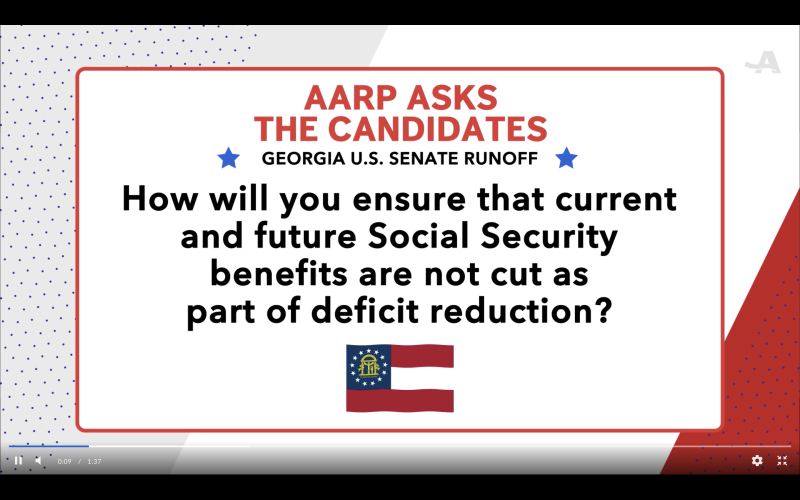 Social Security
Ossoff: The first question is about Social Security, and I will oppose any efforts to cut Social Security. I will oppose the efforts to attack the funding mechanism for Social Security. Look, America decided almost a century ago that we would not allow our seniors to be destitute or homeless. These are earned benefits that Americans have paid into over their entire lives, and I will oppose efforts to cut these vital Social Security benefits that so many of our seniors depend upon. And I'll work to strengthen and protect those benefits.

Perdue: Saving Social Security is one of the reasons I first ran for the United States Senate. Before the pandemic, the Social Security trust funds were estimated to go bankrupt by 2035. But now, we could drain the trust funds in less than 10 years. Once that happens, current law dictates across-the-board benefit cuts for all seniors. That's unacceptable. We've got to act right now. Once we're through the COVID-19 crisis, we are going to have to work hard to save Social Security. I'm not saying cut Social Security; I'm saying save Social Security. First, we must end constant stopgap legislation we use to fund our government and return to sensible budgeting every year. Once we do that, I'm confident we can continue to fulfill our promises to provide Social Security to our seniors.

2. On average, health care already accounts for $1 out of every $6 spent by seniors. If elected, how will you protect Medicare from benefit cuts, lower health care costs and ensure seniors continue receiving the affordable care they have earned?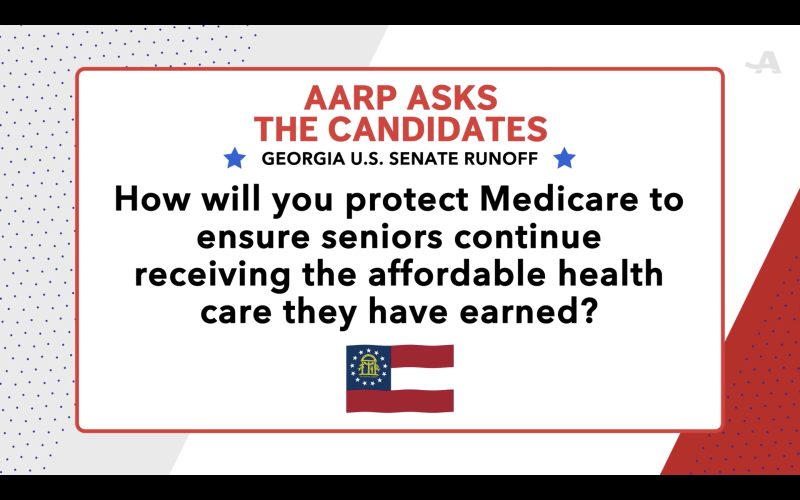 Medicare
Perdue: Attacking the drivers of our health care costs is vital to the long-term financial security of Medicare. We need lower prescription drug costs, and increased access to health care through market-based solutions that increase competition — not government controls that have never really worked. I also believe that increasing transparency and cracking down on fraud in Medicare would improve the program's long-term viability. That transparency will protect the program from future cuts. We also need to guarantee coverage for preexisting conditions and protect seniors from surprise medical bills. I've worked with a bipartisan group of senators to address surprise medical billing, and I've put forward legislation to protect coverage for preexisting conditions at no additional cost.

Ossoff: The next question is about Medicare. Medicare is an absolutely vital program. It's an efficient program. It's a health care program that America's seniors rely upon, and I will vote to ensure they can continue to rely upon it. I will oppose efforts to weaken Medicare. I will oppose efforts to shift the burden of health care costs further on to seniors. And I'll work to empower Medicare to further lower health care costs — for example, by negotiating lower prescription drug costs. You know, the cost of medicine in America right now is a scandal. And it's because of the political power of the pharmaceutical industry in Washington. They actually lobbied Congress so that Medicare is not allowed to negotiate lower drug prices. I will stand up to those drug company lobbyists to bring down drug prices for America's seniors, and I will oppose the ongoing efforts to defund Medicare and the attacks on Medicare solvency.

3. Unemployment during the coronavirus crisis reached the highest levels since the Great Depression, and older Americans have been disproportionately affected. If elected, how will you help Americans over the age of 50 recover economically from the effects of the coronavirus?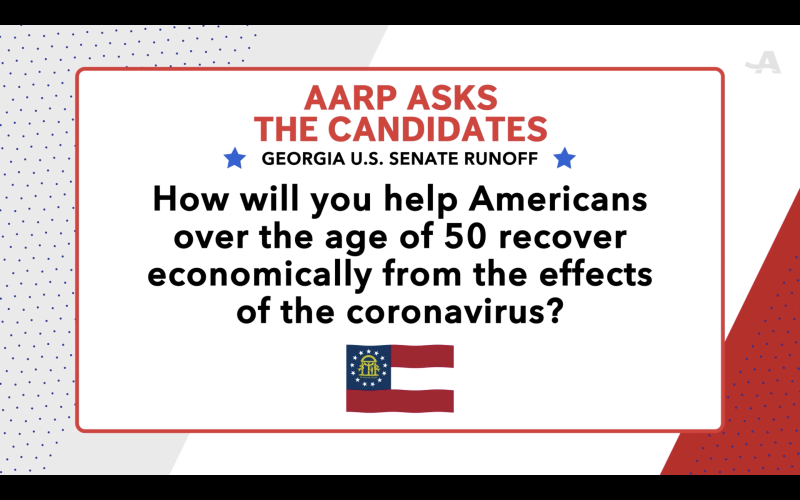 Jobs and the Economy
Ossoff: The next question is about the economic impact of COVID-19 on America's seniors, and America's seniors have been hit so hard. Those who have [been] working have lost their jobs in so many cases. The health impacts have been most severe on America's seniors, and we need more direct relief from the federal government for ordinary people, including America's seniors. We need to strengthen Medicare and lower prescription drug costs so that during a crisis like this the high cost of health care isn't breaking the bank for America's seniors. And this is a great example of why we need to strengthen and protect Social Security, so that during difficult times, America's seniors can rely upon those vital benefits, which they've paid into their entire lives.

Perdue: COVID-19 has been an unprecedented crisis, and we took unprecedented steps to protect our most vulnerable. We shut our entire economy down, and it took a tremendous toll on our employment numbers. It's vital that as we reopen, we do so safely and responsibly. One of the great things about the CARES Act was that it put funding for PPE first, but it also established the Paycheck Protection Program, which has put out millions of loans targeted to small businesses. So far, that program saved 1.5 million jobs in Georgia alone — over 50 million across the entire country. It's been a lifeline for businesses across our state and country. With pro-market solutions that engage people to get back to work, we can safely get our economy going again.

4. Americans pay the highest prescription drug prices in the world. If elected, how will you cut prescription drug prices for all Americans?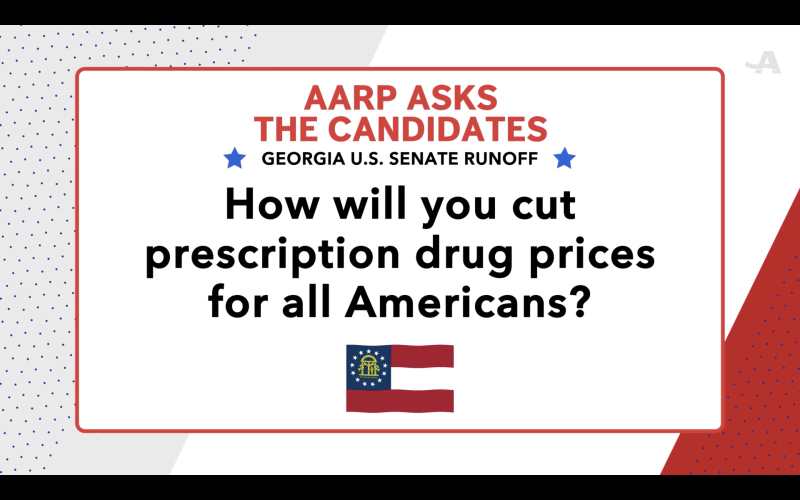 Prescription Drug Prices
Perdue: The cost of prescription drugs is one of the biggest drivers of health care costs in America today, and we've got to do more to address it. I've put forward plans that would incentivize drug manufacturers to offer their products at a lower cost and address inefficiencies in the drug market supply chain. I've also fought for legislation that would require pharmacists to disclose fees and price concessions they use for Medicare Part D. All Americans, and especially our seniors, deserve transparency at the pharmacy counter. Incentives for manufacturers and improving transparency are two solutions that I feel could go a long way to addressing this problem.

Ossoff: The next question is about prescription drug prices. And, look, the cost of medicine in America is an absolute scandal. The drug companies have bought off Congress. They've lobbied Congress so that Medicare can't negotiate lower prescription drug prices. They've bought off politicians, who let the drug companies keep price-gouging the American citizens. Lowering the cost of medicine in America will be among my top priorities in the U.S. Senate. I will stand up to those drug company lobbyists, crack down on price gouging to empower Medicare to negotiate lower prices and to strengthen Medicare, so that America's seniors have the financial support they need to afford health care.

5. COVID-19 has caused death and suffering for too many older Americans who require long-term care. If elected, how will you make sure seniors can access safe and affordable long-term care at home and in nursing homes and assisted living facilities?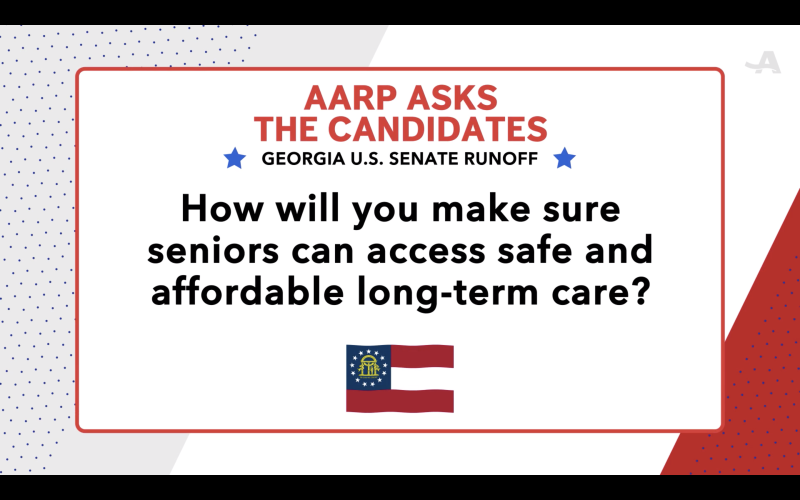 Long-Term Care
Ossoff: The final question is about long-term care, senior care facilities, eldercare in America — and particularly in the context of this COVID-19 pandemic. And it's one of the reasons that I support expanding the Public Health Service, so that there are more doctors and nurses qualified in geriatrics and eldercare to help us staff elder care facilities. I support, as part of a significant health care reform package, more federal support for eldercare in America so that America's seniors, regardless of wealth, can depend upon a dignified retirement where health is taken care of and where they have highly qualified professionals to attend to them as necessary.

Perdue: Seniors are particularly vulnerable to COVID-19, and for that reason, we need to take special measures to ensure their safety. When we passed the CARES Act, we made sure that PPE shortages for long-term care facilities were addressed and passed billions of dollars in funding for our health care providers to care for our seniors who'd become infected. We also expanded telehealth and home health flexibilities so that our seniors' needs can be met in any circumstance. Going forward, it's vital that we make sure we continue our investment in equipping vulnerable populations not just now but for future crises as well. We have to increase our preparedness for public health emergencies, because COVID-19 has certainly been a wake-up call to everyone.

AARP is committed to ensuring voters have the information they need to cast their ballot this year. That is why we are publishing the AARP Asks the Candidates voter guide series, so candidates can share their plans on issues important to 50-plus voters.

AARP has a proud 34-year history of non-partisan voter engagement and does not endorse or oppose candidates or make contributions to political campaigns or candidates.

Also of Interest