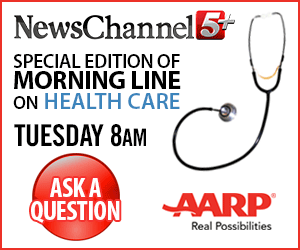 Do you have questions about what's happening with health care in our state? Are you wondering how Gov. Bill Haslam's efforts to expand coverage for hard-working families and retool our system would impact you and YOUR family?

AARP Tennessee has teamed up with WTVF's Newschannel5+ on a series of TV shows to answer your questions and keep you up to date on the latest developments.
http://www.youtube.com/watch?v=cOl_4n2KMEI&feature=share&list=UULVxo3KBUHu0WA-sG3Tpugg[/youtube]



On special editions of MorningLine and OpenLine every month, panelists representing Tennessee business, hospitals, consumers and more will take your questions and give you answers you need. Can't wait to ask your question? Post it here - and we may discuss it on the air!



Set your DVR or make a note of the 2013 schedule now:

August 20 7pm CT OpenLine
October 22 7pm CT OpenLine
December 17 7pm CT OpenLine


Do you know how many Tennesseans don't have any insurance coverage at all? About 577,000, state officials say. That's almost 10 percent of our population. And nearly 200,000 of them are age 50-64. These are people who work hard – many of them in two or three jobs that don't provide insurance. Some of them lost jobs during the recession and still can't find anything. Others may have an insurance policy but it doesn't cover much.

Our Tennessee Sen. Bob Corker says 800,000 Tennesseans "lack adequate health insurance to protect themselves and their families." Right now, these folks only get care when they have to – crowding our emergency rooms and raising the cost of care for those with insurance. That's why AARP pushed for the state to expand its Medicaid program to cover hard-working Tennesseans. We're talking about someone who makes less than $16,000 (or $32,000 for a family of four).

We commissioned The Economics of Medicaid Expansion that found Medicaid expansion would mean an estimated 22,000 new jobs. It also would have brought in nearly $578 million in local and state tax revenue.

For every one dollar spent by the state – we would get $30. The state would not pay anything the first three years – and no more than 10 percent of the cost once fully implemented.

The researchers said expanding coverage also would mean healthier workers, healthier children and healthier families. That would create a more productive workforce – and a healthier local and state economy. They said it would keep hospitals from cutting services – or closing doors altogether. It would help businesses. It would help consumers.

A survey by the Tennessee Hospital Association found that a majority of Tennesseans supported expansion (59 percent). Hospitals face $5.6 billion in cuts – that would have been offset by Medicaid expansion dollars.

If the state doesn't take the money, it goes to other states.

But Gov. Haslam didn't feel comfortable with it. So rejected Medicaid expansion in March. Instead he proposed his own "Tennessee plan" and said it would truly reform health care in our state. He wants to purchase commercial coverage through the health exchange created by the federal government – and use the Medicaid match to pay for it. That means the state would pay no more than 10 percent of the cost.

He also wants to reform the way hospitals, doctors and other health care providers are paid to reward quality care and outcomes. His plan would cover about 175-thousand Tennesseans. It's similar to a plan that has been approved for Arkansas.

The last we heard, the governor was talking with people at the highest level in federal government. We're hoping that he gets the authority to move forward. But even if he does get federal approval of his Tennessee plan, the state Legislature will have to go along with it.

We're trying to educate Tennesseans about what is happening and what it could mean for our families and future - in hopes that folks will contact their lawmakers and the governor and tell him it's time for a healthier Tennessee.

You can share your questions or your stories here now - and watch these special programs to get the answers!