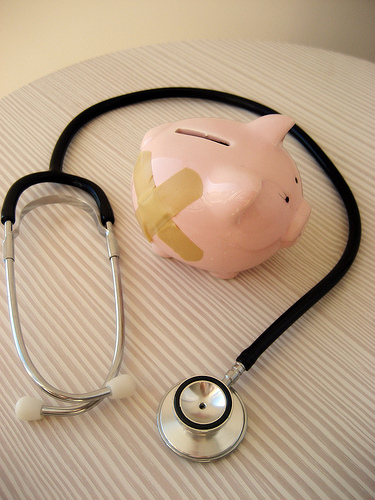 Did you know that each year, Medicare loses billions of dollars as a result of fraud, waste and abuse? If you're like most Medicare beneficiaries, you've probably had questions about your Medicare statements, called Summary Notices, and have often wondered what all of those numbers and codes mean. Sometimes it's difficult to tell whether you are being billed correctly for the services you've received. That's why AARP has developed new tools to help you better understand your Medicare statements and to help save the program money by identifying and reporting fraud and abuse.

According to AARP Connecticut State Director, Nora Duncan, "People in Medicare and their families need every tool available to understand the services they pay for and crack down on the fraud and errors that cost them billions of dollars each year. Seniors and their loved ones can be a first line of defense by reviewing their Medicare Summary Notices every time and reporting problems to their providers or to Medicare."

Another way AARP is helping combat Medicare Fraud is through support of the Senior Medicare Patrol (SMP) program, which recruits and trains volunteers to help promote public awareness of health care fraud and scams and engage other seniors to become pro-active in preventing fraud.

SMP volunteers work in their communities providing information to Medicare and Medicaid beneficiaries, family members and caregivers about the importance of reviewing their Medicare Summary Notices to identify billing errors and report possible fraudulent activities.





Connecticut's SMP is currently seeking volunteers and is offering the following upcoming trainings:

Thursday, April 18, 2013 from 1pm-5pm, Lucy Robbins Welles Library, 95 Cedar Street, Newington, CT 06111. Sponsored by the North Central Area Agency on Aging (NCAAA). Advanced Registration is required and participants MUST complete an interview prior to attending this training. To schedule an interview, please contact Carol Walsh, Senior Medicare Patrol Volunteer Coordinator, at carol.walsh@ncaaact.org or call 860-724-6443 x271.

Thursday, April 25, 2013 from 10:00 a.m. to 2:00 p.m. at the Agency on Aging of South Central Connecticut, located at 1 Long Wharf Drive, New Haven, CT 06511. For additional information and to register for the training, please contact the SMP Coordinator by Monday, April 22, 2013 by calling 203-785-8533.
The SMP program began in 1997 and is funded by the U.S. Administration on Aging. At least one SMP project is located in each of the 50 states as well as, in the District of Columbia, Puerto Rico, Guam and the U.S. Virgin Islands. The SMP projects recruit and train retired professionals and other senior citizens as volunteers to educate their peers on ways to safeguard their Medicare numbers, review their Medicare Summary Notices (MSN) to detect discrepancies, and to report suspicious activity once discovered. Since its inception, the program has recovered $4.5 million in Medicare funds.

Connecticut's SMP program is operated in partnership with the five regional Area Agencies on Aging: Agency on Aging of South Central Connecticut located in New Haven, North Central Connecticut Area Agency on Aging located in Hartford, Senior Resources (Eastern Connecticut Area Agency on Aging) located in Norwich, Southwestern Connecticut Agency on Aging located in Bridgeport, and Western Connecticut Area Agency on Aging located in Waterbury.

The program provides education and outreach, one-on-one counseling and assistance to Medicare beneficiaries, presentations to groups of seniors which address the types of fraud and abuse and scams that occur and the steps seniors can take to protect themselves. SMP volunteers and counselors encourage seniors and caregivers to forward inquiries to the CHOICES program (1-800-994-9422) for referral to SMP when such issues are identified, in order to ensure appropriate resolution or referral.

Each regional Area Agency on Aging SMP project recruits and trains volunteers on SMP. If you are interested in becoming an SMP volunteer or have questions or concerns about Medicare and Medicaid fraud, contact the CHOICES program at 1-800-994-9422 or the Statewide SMP project at 1-860-424-5293.