AARP FOUNDATION HOUSING SOLUTIONS CENTER JOINS WITH CITY OF MIAMI TO
HELP SENIORS WITH MORTGAGE FORECLOSURE PROBLEMS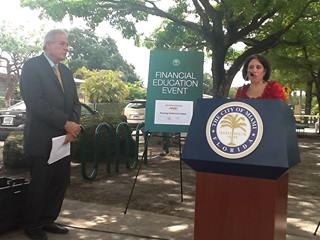 Miami, FL - City of Miami Mayor Tomas Regalado and AARP Foundation President Jo Ann Jenkins announced today that they've joined forces to provide greater access and convenient assistance to older residents in the city of Miami who are struggling with foreclosure and home mortgage problems.
Under the new alliance, Miami residents calling the city's 311 information and referral center for mortgage and foreclosure assistance will be referred to AARP Foundation's Housing Service Center (HSC). As of May 2013, South Florida had the nation's third highest foreclosure rate; the state of Florida has had one of the nation's highest mortgage-foreclosure rates for years now. AARP Foundation's Housing Solutions Center connects 50+ at-risk homeowners to free HUD-certified counseling, resources and education that will help them avoid foreclosure and remain in their homes.
"There are few things worse for our city's older residents than losing their home after 15 or 20 years of paying a mortgage. Unfortunately, that heartbreaking ordeal is a fact for hundreds of homeowners and their families in our city," said City of Miami Mayor Tomas Regalado. "My duty as Mayor and responsibility as a concerned neighbor, is to do my best to help those individuals and families on the verge of losing their homes. This effort with AARP Foundation offers the city a valuable resource for residents in need. I encourage those who might benefit to use this extra help."
Beginning in June, the city's 311 informational service will begin referring Miami residents who are having trouble paying their mortgages to Housing Solutions Center counseling services. AARP Foundation and Mayor Regalado announced the alliance at a joint press conference this morning in Hadley Park. The Mayor also signed a statement of support for the Foundation's Housing Solutions Center services.
"AARP Foundation is pleased to collaborate with the city of Miami on this critical effort to help older residents stay in the homes they've worked hard to provide for themselves and their families for so many years," said Jo Ann Jenkins, president of AARP Foundation. "Despite the perception that older Americans are more housing secure than younger people, we know that, according to AARP Public Policy Institute, from 2007 to 2011, more than 1.5 million older Americans lost their homes as a result of the mortgage crisis. We cannot afford to continue to let our nation's older residents be displaced from their homes."
As of December 2011, approximately 3.5 million loans of people age 50+ were underwater-meaning homeowners owe more than their home is worth, so they have no equity; 600,000 loans of people age 50+ were in foreclosure, and another 625,000 loans were 90 or more days delinquent. Florida has among the highest rates of foreclosure in the country, and Miami has one of the highest rates in Florida. The Housing Solutions Center provides no-cost foreclosure-prevention services to people 50+. These services are available in English and Spanish through HSC's toll-free number: 855-850-2525 or visit www.aarp.org/housingsolutionscenter.
AARP Foundation is working to win back opportunity for struggling Americans 50+ by being a force for change on the most serious issues they face today: housing, hunger, income and isolation. By coordinating responses to these issues on all four fronts at once, and supporting them with vigorous legal advocacy, the Foundation serves the unique needs of those 50+ while working with local organizations nationwide to reach more people, strengthen communities, work more efficiently and make resources go further. AARP Foundation is AARP's affiliated charity. Learn more at www.aarpfoundation.org