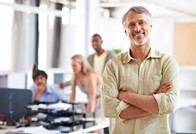 Monica Stynchula is not a conventional retiree.

After working as a medical social worker and home-schooling her children, Stynchula, like many Boomers, was looking for her "What's Next" after retirement and found it in her new company. Stynchula used the combination of her skill set and the motivation of seeing her father live though cancer to start a new business that not only benefitted her, but benefited the community as well. She founded and became the CEO of Dovetail Care, Inc., the parent company of REUNIONCare.com, a web-based communication company for families caring for older adults with dementia and Alzheimer's disease.

Now she helps and inspires others to find their "What's Next" by serving as an Encore Tampa Bay Town Hall supporter. This organization helps adults 50+ use their talents and experiences in a "second act" for the benefit of the community.

Bevan Rogel, the leader of Encore Tampa Bay, has created a model that speaks to 50+ people of all backgrounds and aspirations, said Stynchula. Tampa Bay "is very fortunate to have Bevan here to carry the torch into our encore careers," she said.

The organization's mission is to transform the Tampa Bay community and economy by assisting adults age 50+ explore options and select a path to an "Encore Career." This career could range anywhere from paid or volunteer service, a complete career change or an entrepreneurship.

"Boomers are a completely different generation from their parents," said Michelle Cyr, AARP Associate State Director for Advocacy. "Many aren't ready to retire, they want to follow their passions and continue working. Encore Tampa Bay is giving them the tools and resources to do just that."

Others in the program recognize the benefit of joining Encore Tampa Bay.

"I cannot say enough about Encore Tampa Bay and the whole experience I had with the workshops, the discussion groups and the book club we created," said Nanci Cole Odom, a fellow Encore Town Hall supporter and second act seeker. "Being with likeminded people at the same point in their lives has really been a wonderful journey."

AARP Florida is helping bring the Tampa Bay Encore movement to the public eye by sponsoring the Encore Tampa Bay Town Hall event on Oct. 21 from 4:30 to 7:00 p.m. at the Feather Sound Country Club. The collaborative effort will create pathways, programs, policies and resources for encore seekers and create awareness around community, business and non-profit leaders about the potential and wealth of experienced talent in Tampa Bay.

If you're looking to rediscover your passion and identify a meaningful second act register to attend Encore Tampa Bay Town Hall. Registration is $20, preregistration is required to attend. Free with registration is the "Encore Career Handbook." Space is limited, so AARP Tampa Bay urges those interested to register now.