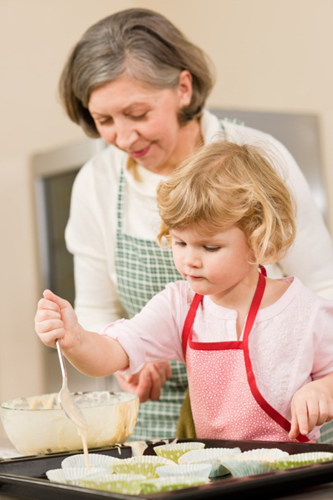 By Nicole Duritz

I remember visiting a great aunt over the holidays a few years ago and sitting across the kitchen table from her as she was taking her (many) morning medications. As we're chatting, I noticed her going for the same prescription bottle that she just took a pill from. I asked, "Didn't you just take that one?" She looked a little surprised and said, "Oh, well, I guess two can't hurt."

I gently explained that taking her medications exactly as directed is important to her ongoing wellness, and even a small error can cause big problems. Later that day, we went to the pharmacy and bought a pill organizer so she'd be able to set up her morning and evening medications at the start of each week.

My aunt agreed to write down all of her medications so I could make copies of the list. Now she carries copies of it in her purse for visits to the doctor and the pharmacy. And she has a handy reference for herself as she's setting out her pills each week.

Our parents and older relatives want to live their lives. They want to stay in their own homes, get themselves around town and do as they please. Naturally, we share those wishes for them and even for ourselves. Since time can pass in between your visits with family members, the holidays can be a good time to assess your loved one's well-being.

Here are things to look for as you visit your parents or other older relatives over the holidays:

You may witness yourself or hear from relatives that mom or dad's driving isn't up to par. For insights into assessing their driving skills (and your own), sign up for a safe driving class together. Everyone can benefit from driving tips, plus the class is fun and may save you money. Use the Driver Safety course locator at www.aarp.org/findacourse to find a course near you. If you end up needing to have the difficult conversation about limiting or even "retiring" from driving, check out the "We Need to Talk" program. The free online seminar guides you through the tough discussion. You can find additional safe driving resources at AARP Driver Safety.

2. Medications

As with my aunt, it's so easy to make mistakes when taking prescription drugs, and the results can be dangerous -- even life threatening. A great way to help your parents or older relatives manage their medications is by encouraging them to keep a medication record. There's one online at www.aarp.org/medicationrecord. Once they've filled it out, they can make copies to share with their doctors and pharmacist.

3. Flu season.

Flu shots save lives. And there's likely no need to make a doctor's appointment – community-based flu shot clinics can be found at pharmacies and other places around town.

4. Health coverage.

Medicare Open Enrollment runs from October 15 through December 7. During this time, people with Medicare can change their Medicare health and prescription coverage. If mom, dad or another older relative is struggling with medical bills, encourage them to check into other options at www.medicare.gov. They can also benefit from connecting with their State Health Insurance Assistance Program (SHIP). SHIP provides assistance to people with Medicare and their families.

5. Home safety.

Aging in place usually means making some changes to our homes for safety reasons. Some are simple fixes, like getting rid of tripping hazards like throw rugs or electrical cords. If arthritis or other ailments make it hard to open doors and cabinets or turn faucets on and off, you or a handyman can switch the hardware to levers. They are much easier to manage. Is there an entrance into the home that is step-free? If not, you may want to encourage them to get a ramp and railing installed. You can find these and other helpful ideas in the AARP Home Fit Guide, online at www.aarp.org/homefit.

Other Resources

If you're looking for guidance on family caregiving, AARP offers lots of help through our Caregiving Resource Center at www.aarp.org/caregiving. You can find help juggling work and caregiving, how to locate local resources, and how to take care of yourself while caring for another.

We all want to stay independent! You can help your loved ones do just that by checking in on them over the holidays. Sometimes even small adjustments can go a long way in helping our older relatives remain happy, comfortable and secure.

# # #

Nicole Duritz is Vice President of the Health & Family issues team in the Education and Outreach group at AARP. She leads AARP's educational and outreach efforts on health education issues, including Medicare, the health law, prescription drug affordability, long-term care, and prevention and wellness. She can be reached at nduritz@aarp.org.