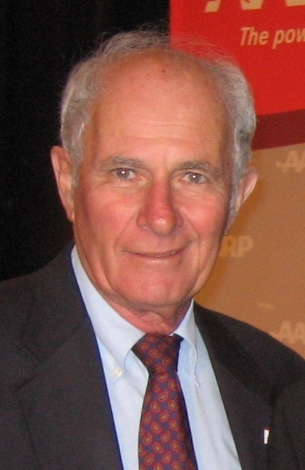 Though retired, Dr. Len Kirschner is always looking for ways to improve Arizona citizens' lives. After one conversation, you may be hard pressed to find anyone in Arizona more passionate about supporting Medicaid and healthcare than Dr. Kirschner. He's been fighting the good fight of persuading state legislators to embrace the importance of the Medicaid program in Arizona for more than 30 years.

It was shortly after he retired that Dr. Kirschner was appointed State President of AARP Arizona, a volunteer position. On assuming this role, his prior years of healthcare experience came in handy as the state was facing hard economic times. That year, the state legislature took the step of cutting hundreds of thousands of Arizonans from the Arizona Health Care Cost Containment System (AHCCCS), the state's Medicaid program in an effort to cut costs.

By 2009, a quarter of a million adults were forced off AHCCCS rolls. That led to more uninsured patients crowding emergency rooms, hospitals slashing services, thousands of workers laid off and higher insurance premiums for those who had insurance.

As a former director of AHCCCS, Dr. Kirschner understood that restoring Medicaid coverage to those who lost coverage was essential to the livelihood of thousands of Arizonans. He worked alongside other AARP volunteers and staff in helping to get services restored for, what was in many cases, life-saving benefits. It was in 2013, that then Governor, Jan Brewer, signed a law re-establishing Medicaid coverage to over 300,000 residents.

Over the years, Dr. Kirschner has been an indispensable volunteer to AARP Arizona. In addition to advocating for Medicaid, he led Arizona's efforts on AARP's Divided We Fail campaign beginning in 2007 to raise awareness of the need for national health care reform.

During the campaign, he helped to engage citizens, elected officials and those from the business community to not only sign the Divided We Fail pledge, but engage in finding broad-based, bipartisan solutions to key health care reform issues through community forum discussions. Now in his 12th year of volunteering, Dr. Kirschner continues to be committed and dedicated to helping others through his efforts with AARP.

"There's humility about Len that appeals to people, and that's one of the reasons he's so effective," said Steve Jennings, Associate State Director of AARP Arizona. "Good advocacy is not about what you know, but about being compassionate and committed and Len is both," Jennings said.

Dr. Kirschner credits much of his success in healthcare advocacy to his personal relationships with state officials in Arizona. "Strong personal relationships that AARP volunteers bring to the table can make a difference in helping the organization fulfill its social mission," Kirschner said.

While Dr. Kirschner has received many awards over the years, he cherishes two Air Medals he received from the U.S. Air force for service in the Vietnam War where he flew 35 combat missions in Southeast Asia. When reminiscing about his days in the Air Force he finds it amazing that, "In 1965, Medicare and Medicaid were signed into law when I arrived in Vietnam," Kirschner said. "Back then, I was more concerned about incoming rockets than I was about healthcare reform."

Dr. Kirschner served on active duty in the U.S. Air Force for 22 years commanding five Air Force hospitals before retiring in 1985 as Commanding Officer of the USAF Hospital, Luke Air Force Base with the rank of Colonel.

Now at the age of 79, he continues to be involved in advocating AARP's position on Medicare, Medicaid, and the Affordable Care Act.

For more information about volunteering with AARP, please visit the website.