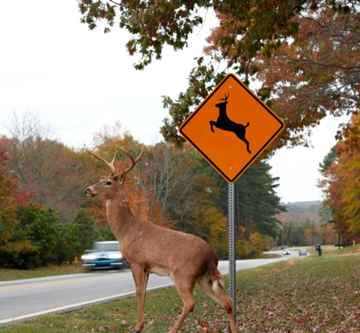 You don't have to be a "deer in headlights" if you see a deer in your headlights this fall. October through December marks the peak time for deer activity on and off the road and nearly half of deer collisions happen during these months. Deer collisions can be nerve-wracking, harmful and costly. In fact, the Insurance Information Institute estimates that there are more than 1.6 million vehicle collisions with deer each year, resulting in over $4.6 billion in vehicle damage, medical costs and other expenses.

However, being an alert and defensive driver can reduce your risk of colliding with a deer altogether. If you do run into a deer on the road it's important not to make critical mistakes that could worsen the situation and cause more harm. As deer and other animals commonly cross roads it's up to you to be a smart driver.

Below are some important tips on how to stay safe on the road this fall and avoid dangerous encounters with deer.



Heed the warnings. "Deer crossing" signs are installed to warn drivers of high deer traffic in the area, so drive more carefully on roadways near these signs and be aware that deer may jump onto the road. Obey the speed limit and scan the sides of the road when possible. Keep in mind that deer travel together so if you see one, others are likely nearby.


Be especially alert at dawn and dusk. Approximately 90 percent of collisions with animals happen at dawn and dusk, when visibility is at a minimum. The National Safety Council advises adjusting your vehicle's headlights to help spot any possible deer, stating, "Watch for reflections from your headlights. Deer eyes may reflect the light, and spotting the reflection could give you more time to react." However, keep in mind that your headlights may startle or confuse deer, so be prepared if they freeze or act erratically and follow the advice below.


Never swerve, but brake appropriately. If you do spot a deer on the road, brake slowly so that you may be able to stop before hitting the deer or at least lessen the impact if you do collide. However, braking too shortly may not give cars behind you enough time to stop. Be aware of the traffic behind you before slowing or stopping. If there is time, flashing your vehicle's headlights and honking the horn in short bursts may help scare the deer away so that you can avoid a collision. If the deer is directly in front of your vehicle and there isn't a safe stopping distance between you and the animal, do not slam your brakes. Most importantly, never swerve to avoid hitting the deer, as hitting the animal head on will ultimately cause less damage than hitting another vehicle or a fixed object, such as a tree or road sign.


Contact local law enforcement. If your vehicle does collide with a deer, do not keep driving. Pull over to the side of the road carefully and call the police. If it is safe, step out of your vehicle and take note if the deer has fled the scene or if it is present and wounded. If the deer is still near do not approach it as it may endanger you. Assess the scene, your vehicle and any damage. Document the scene if possible with your smart phone to be able to show the police as you describe the incident. After assessing any damage and contacting the police, return to your vehicle and stay inside until the police arrive.
For more tips on how to stay safe behind the wheel, consider taking the AARP Smart Driver™ Course—AARP Driver Safety's flagship offering and the nation's first and largest refresher course designed specifically for older drivers. The AARP Smart Driver Course is available in a classroom and online, in both English and Spanish. In some states, you may even be eligible for a multi-year insurance discount upon completion of the course.

For more information, visit www.aarp.org/safedriving or call 1-888-AARP-NOW (1-888-227-7669).

*The insurance premium discount is not available in all states for the online or the classroom versions of the course. Please consult your insurance agent for further details.