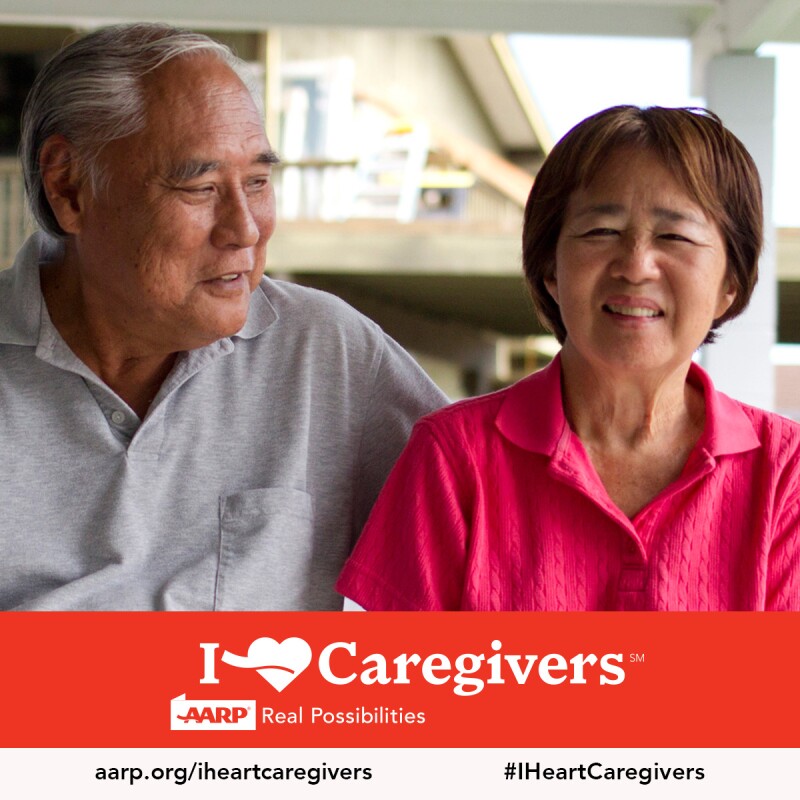 November marks National Family Caregivers Month, a time to recognize the 42 million Americans, including 247,000 family caregivers in Hawaii, who help care for aging parents, spouses and other loved ones so they can remain at home – as opposed to costly institutions. In Hawaii, family caregivers provide unpaid care valued at a staggering $1.9 billion annually.

To honor family caregivers, this month AARP launched a new initiative to spotlight their stories, called "I Heart Caregivers." The site will raise awareness and support for family caregivers, who provide much-needed care for the people they love. Our goal is to recognize the contributions and dedication of family caregivers in Hawaii by shining a spotlight on their stories.

According to a recent survey of Hawaii residents age 45+ the average age of caregivers in Hawaii is 62 years old and the majority is female, married, has a two-year college degree or higher, and works full or part time. She provides 20 hours a week of assistance to a loved one, although she may be on call around-the-clock.

"When it comes to family dynamics, caregiving is the norm in Hawaii," says AARP Hawaii State Director Barbara Kim Stanton. "If you're not a caregiver now, you were one in the past, or you'll likely be one in the future. This silent army of unsung heroes helps their older loved ones to live independently, with dignity, each and every day."

The vast majority of older residents in Hawaii want to live independently, at home, as they age. Family caregivers are the ones who step up and provide the bulk of assistance to make this goal a reality – including help with bathing and dressing, meal preparation, managing finances, transportation, grocery shopping, and more.

Family caregivers also undertake tasks that were once in the domain of only doctors and nurses: complex medication management, wound care, and injections. Yet, most receive little or no training for these duties. In 2014 the state Legislature created a task force to explore the elements of the CARE Act and determine the feasibility of introducing the bill in the 2015 session. The task force is due to report back to the Legislature by January 1.

The CARE Act helps family caregivers when their loved ones go into the hospital and as they transition home. The bill features three important provisions:

The name of the family caregiver is recorded when a loved one is admitted to a hospital.
The family caregiver is notified if the loved one is to be discharged to another facility or back home.
The facility must provide an explanation and live instruction of the medical tasks – such as medication management, injections, and wound care – that need to be done at home.


Hawaii registered voters age 45+ strongly support proposals to help family caregivers navigate the health care system on behalf of their loved ones. Specifically, survey respondents support requiring hospitals and health facilities to explain and demonstrate medical and nursing tasks that family caregivers will need to perform after the patient returns home (95 percent); keep a family caregiver informed of major decisions, like transferring or discharging the patient (93 percent); and record the name of a patient's family caregiver in the medical record upon admission (86 percent).

Many Hawaii caregivers report feeling emotionally and financially stressed as well as not being able to take care of their needs and the needs of their other family members due to their caregiving responsibilities. Nearly all say having community services that would allow family caregivers to take a break from their caregiving duties is important.

"Family caregivers need all the support we can give them, including training, help at home, workplace protections, and more," Stanton concludes. "We need to make sure the right resources are available in the community so family caregivers have the strength and energy to carry on."

AARP is a nonprofit, nonpartisan organization with nearly 150,000 members in Hawaii. AARP helps people turn goals and dreams into real possibilities, strengthens communities, and fights for the issues that matter most to families – including healthcare, employment and income security, retirement planning, affordable utilities, and protection from financial abuse.