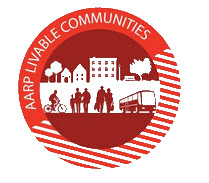 As part of its efforts to make Iowa communities better places to live and age, AARP will present tips and tools for livability at the Iowa League of Cities annual conference. More than 500 mayors and other municipal officials are expected to attend the Cedar Rapids event Sept. 23-25. Presenters will address an array of issues, including the challenges of a rapidly aging population.

Kent Sovern, AARP state director, will show conference participants how to use the AARP Livability Index to measure a community's strengths and weaknesses in terms of housing, neighborhoods, transportation, environment, health, engagement and opportunity.

More than 15 percent of Iowans are 65 or older, and that segment is expected to grow to about 20 percent by 2025.

To request a similar presentation, email aarpia@aarp.org or call 866-554-5378 toll-free. To check your community's score, go to aarp.org/livabilityindex.