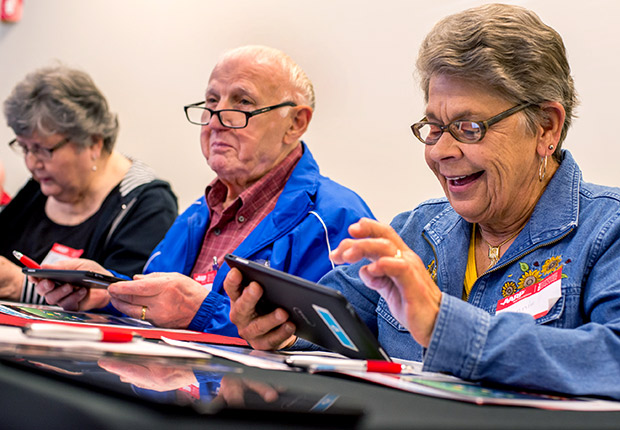 Por Lorna Collier
Bonnie Schultz sonrió complacida. Esta enfermera jubilada de 71 años, proveniente de Caledonia, acababa de dominar el arte de la selfi, el acto de tomarse un autoretrato, con la cámara frontal de una tableta Android. Es una de las muchas habilidades que Schultz adquirió durante un taller gratuito de AARP en Rockford, orientado a que los adultos mayores aprendan más sobre tecnología.
"Estoy aquí porque mi teléfono inteligente me está demostrando cuán tonta puedo llegar a ser… necesito ayuda", reconoce Schultz, con una carcajada.
Hace ya dos años que Schultz posee un teléfono inteligente y lo emplea no solo para hacer llamadas, sino también para enviar mensajes de texto; método que le ha resultado ideal para mantenerse en contacto con sus tres nietos. "Si envías un mensaje de texto, obtendrás una respuesta; si haces una llamada telefónica y dejas un mensaje, no la obtendrás", explica.
Ella desea saber más acerca de ciertas capacidades tales como tomar, enviar y organizar fotos, encontrar y leer libros electrónicos (ebooks), usar Skype (una aplicación que permite realizar videoconferencias) y descargar aplicaciones.
Entra en AARP TEK. Desde el año pasado, AARP ha fomentado la realización de talleres TEK (Technology, Education and Knowledge – Tecnología, Educación y Conocimiento) en Chicago y sus alrededores, así como también en otras ciudades en todo el país.
Estos talleres les permite a los socios de AARP y demás interesados experimentar un contacto práctico y personalizado con las tabletas (ya sean iPads o Androids), agrupados en mesas de entre cinco y ocho compañeros usuarios. Cada una de las mesas cuenta con un técnico guía, capaz de aclarar dudas o asistir a quienes se quedan rezagados.
Los instructores de estas sesiones de dos horas de duración otorgan mucho tiempo para practicar cada nueva técnica. Entre otros temas, explican cómo tomar y compartir fotos y videos, usar mapas móviles, hacer búsquedas en línea y encontrar y descargar apps (las aplicaciones que corren los programas de las tabletas).
Si bien se les suministra una tableta a todos los asistentes de un curso TEK para que practiquen, algunos de los estudiantes en Rockford traen también las propias. Para otros, es la primera vez en su vida que están en contacto con una pantalla táctil. Sin embargo, la curva de aprendizaje es corta: hacia el final de la sesión, la mayoría hojea y se desliza por la pantalla con relativa facilidad.

No teman
"Nuestro objetivo es capacitar a los adultos mayores para que no le teman a la tecnología y saquen provecho de ella, ya sea conectándose con sus amigos y familiares, accediendo a oportunidades laborales, obteniendo información relacionada con la salud; en definitiva, haciendo que las personas se sientan a gusto para que puedan utilizar estos dispositivos de la forma que les resulte más beneficiosa", dice Jennifer Baier, directora asociada de AARP Illinois para estrategias digitales.
La respuesta a este programa ha sido tan positiva que este año se ha expandido significativamente, y se han abierto más talleres en distintas ciudades de todo el país.
Según Baier, se espera que en Illinois el número de eventos se incremente, de los treinta y cinco llevados a cabo en el 2014 a doscientos para el presente año, y se prevé agregar sesiones sobre el uso de teléfonos inteligentes.
El contenido será también más avanzado y abarcará temas tales como redes sociales, prevención de fraudes y búsqueda de empleos en línea.
De acuerdo con un reciente informe elaborado por el Pew Research Center, la mayoría de los adultos mayores se está animando a conectarse en línea, si bien esto varía según la edad, el nivel de ingresos y la educación. Cerca del 60% de las personas de más de 65 años utiliza internet, el 78% dispone de teléfonos celulares, el 22% cuenta con teléfonos inteligentes y el 25% posee tabletas.
Sin embargo, el porcentaje de individuos que utilizan tabletas y teléfonos inteligentes disminuye con la edad. Por ejemplo, el 75% de las personas entre 65 y 69 años se conecta en línea, pero entre las personas de 80 o más años, tan solo el 37% lo hace.
El nivel de ingresos es también un factor determinante. Las personas de más de 65 años que reciben un ingreso anual de $75,000 o más tienen muchas más probabilidades de conectarse en línea (el 90%) que aquellas con ingresos de $30,000 o menos (el 39%).
"Más que la edad, es la condición socioeconómica la que impone una barrera", afirma David Lindeman, director del Center for Technology and Aging de Oakland, California. Pero, en la medida que la tecnología se hace más veloz y menos costosa, se tornará más accesible.
"Cuanto más expuesta esté la gente a la tecnología, más podrá sacar partido de ella", confía Lindeman.
Para localizar una sesión AARP TEK dirígete a la página de AARP TEK en español, o llama sin cargos al 877-926-8300.

Lorna Collier es una escritora independiente que reside en Belvidere, Illinois.