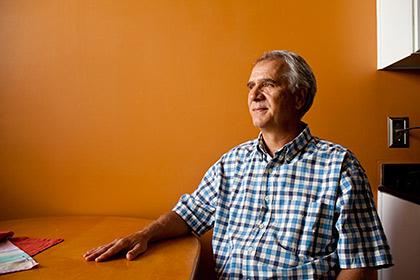 By Holly Fisher • Tim Dempsey, 64, contributed toward health insurance premiums for the 18 years he worked for a telecommunications firm. But when the Daniel Island resident needed that coverage the most, it wasn't there.

When he retired in 2003, Dempsey planned to remain on his former employer's insurance policy until he became eligible for Medicare.

This summer, the company dropped retiree health insurance, a casualty of the firm's bankruptcy proceedings. That same week, Dempsey faced a sobering medical report: prostate cancer that required surgery.

Denied coverage by traditional insurers, Dempsey qualified for a state program for people rejected by insurance companies. He found other policies for his wife and their son, but the family's monthly insurance premiums more than tripled to nearly $1,900.

In hopes of getting better coverage at a less expensive rate, Dempsey will shop in the South Carolina health insurance marketplace, which opened for enrollment Oct. 1 as part of the Affordable Care Act (ACA) requiring most Americans to have health insurance next year.

Compare plans in one place

The insurance marketplace gives consumers the ability to compare plans in one place, said Renard L. Murray, regional administrator for the Centers for Medicare & Medicaid Services in Atlanta, which serves South Carolina and seven other southern states.

"When you're looking at plans online, you can make apples-to-apples comparisons about what you need," he said. "All the information is at your fingertips."

Anyone can buy a policy in the marketplace, although it is aimed at uninsured individuals and businesses with 50 or fewer employees.

In 2011, more than 150,000 South Carolina residents ages 50 to 64 were uninsured, according to the AARP Public Policy Institute.

"Many people in that age range may be retired from their jobs. At that point, they still may have employer-sponsored insurance, but there are others with no type of insurance," Murray said.

The ACA offers "a unique opportunity for the uninsured to have access to insurance," he said.

The plans offered through the exchange must cover essential health care such as doctor visits, hospital stays and prescription drugs. They can't charge a copayment for preventive care such as mammograms, Pap smears and blood pressure or cancer screenings.

The plans come in four levels—bronze, silver, gold and platinum. Bronze offers basic coverage; silver provides standard coverage; and gold and platinum policies have higher coverage with higher premiums. There are variations within each level.

Coverage starts Jan. 1

People who enroll by Dec. 15 will have coverage on Jan. 1. People who enroll later will receive coverage about a month after they sign up.

AARP South Carolina has a variety of resources for state residents about the enrollment process.

It will host community forums and town hall meetings around the state this month to ensure people are informed about the marketplace. Groups and organizations that would like to request an AARP South Carolina presentation can call 866-389-5655 toll-free.

Some consumers will qualify for subsidies based on income levels.

People with income of less than about $46,000 for a single person and about $94,000 for a family of four will qualify for a subsidy.

The ACA requires most Americans to have health insurance in 2014 or pay a penalty of at least $95 on their federal tax return.

To enroll in a policy or receive assistance with the application, visit HealthCare.gov or call the 24-hour hotline, 800-318-2596. For more information on the ACA, visit healthlawanswers.org.



Holly Fisher is a writer living in Charleston, S.C.