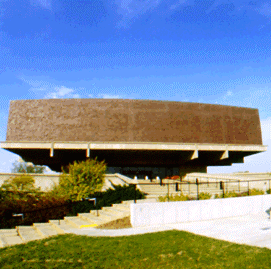 If you're a Bonanza, The Jetsons or Twilight fan, get a kick out of mid-mod décor or hold a special fondness for '50s Chevys, then you don't want to miss "1950: Building the American Dream" – an exhibit now on display at the Ohio Historical Center in Columbus.

And the best part is AARP is hosting a free tour of the Ohio Historic Center, where you can join fellow AARP members to see the museum and its wide range of exhibits. Meet new people or reconnect with old friends at this exclusive member event taking place at 10 am on Thursday, April 17.

The Ohio Historical Society connects visitors to the history of Ohio through exhibits on topics ranging from prehistory to the present. AARP members will experience the " 1950s: Building the American Dream" exhibit along with free tours of 11 other exhibits now on display during this exclusive member event.

While the tour is free, reservations are required as tour tickets are limited. Please RSVP online or call toll-free 1-877-926-8300.