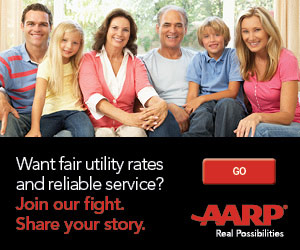 We believe utilities should be affordable, reliable and fair. That's why we're fighting for you, and all Connecticut residents, to protect your hard-earned dollars and enact stronger consumer protections. If you have a consumer complaint about your electric or telephone service, the actions of an electricity supplier, or other concern, please share your story with us. Your input will be used to help shape the future of consumer protections for utility customers in Connecticut. You can also sign up to receive alerts and information from AARP Connecticut so you can take action on these and other issues important to you when your voice can make a difference. If you'd like to speak to soneone at AARP, please call us toll-free at 866-295-7279. Find additional consumer resources below.

UPDATE: The Public Utilities Regulatory Authority (PURA) has opened a regulatory proceeding, known as a "docket", to examine concerns with the private electric supplier market. AARP Connecticut is an offical petitioner in the proceeding on behalf of our members and all residents age 50+. The results of the proceeding will become the basis for new rules for suppliers and new protections for consumers. PURA will conduct several hearings for public comment on this matter. AARP is urging all residents with concerns or complaints about current or previous dealings with an electric supplier to attend and/or submit comments at one of these upcoming hearings:



Wednesday, February 19, 2014, at 6:30 p.m., in the City Hall Auditorium, 70 West River Street, Milford, Connecticut,
Thursday, February 20, 2014, at 6:30 p.m., in the Farmington Community Senior Center, 321 New Britain Avenue, Unionville, Connecticut,
Monday, February 24, 2014, at 6:30 p.m., in Room 135, Brookfield Town Hall, 100 Pocono Road, Brookfield, Connecticut
Tuesday, February 25, 2014, in the Norwich City Hall, 100 Broadway, Norwich, Connecticut, at 6:30 p.m.
The hearing will continue at the offices of the Authority, Ten Franklin Square, New Britain, Connecticut on Monday, March 3, 2014, at 10:30 a.m.

We're fighting for you. AARP achieved a major legislative victory in Connecticut in 2013 when we mobilized thousands of AARP members across the state to fight a proposed energy auction which would have sold the accounts of more than 800,000 customers who receive their electricity through the "standard offer" from CL&P and UI to private energy companies, in order to net the State about $80 million. The plan would have resulted in hundreds of thousands of residential ratepayers having their electricity supplier switched without their consent and could have resulted in higher electricity costs for everyone in future years. We fought for you to keep control of how your hard-earned money is spent. And together, we won – for all Connecticut electric customers.

That wasn't our first fight, and it won't be the last. AARP Connecticut is continuing the fight to preserve and strengthen consumer protections in the electric market. The 2013 legislative battle over the energy auction highlighted consumer complaints against the private energy suppliers, which are at an all-time high. As a result, the Public Utilities regulatory Authority (PURA) has opened an regulatory proceeding, known as a "docket", to examine concerns with the private supplier market. AARP Connecticut is an offical petitioner in the proceeding on behalf of our members and all residents age 50+. The results of the proceeding will become the basis for new rules for suppliers and new protections for consumers.

Join in the fight for fair rates and reliable service – share your story with us! or attend one of the public hearings listed above.

If you are interested in learning more or volunteering with AARP Connecticut to help support our advocacy efforts, please call us toll-free at 1-866-295-7279 or email us at: ctaarp@aarp.org.

Additional Resources

For questions about your utility bills or to report a complaint, call the Public Utilities Regulatory Authority at 800-382-4586.

State Office of Consumer Counsel, 860-827-2900