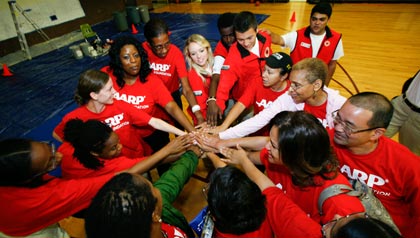 Do you want to know how you can make a difference for Marylanders 50+? Join us for a day of learning and connection with other AARP members while you enjoy complimentary food and drink! Come and hear about AARP Maryland's avenues to service, volunteer tips and tricks, resources and opportunities – and, meet the AARP Maryland Team! Space is limited, so register today!

As an AARP volunteer, you will not only make a difference, but you will be given the opportunity to benefit from high quality training and education; enjoy new challenges; connect with people, partners and leaders from across Maryland; and partner with others who share your commitment to improving quality of life for all.

Dedicated to making a difference in our communities, AARP MD needs volunteers to help! Here are some ways that you can connect with AARP MD:

If you like striking up conversations with strangers everywhere you go, you could be an Outreach Emissary! Collaborate with AARP members, chapters, the public, and local organizations across the state to share information and resources.
Love being online and "liking, commenting, or tweeting?" Our AARP Social Media Volunteer uses Facebook and Twitter to keep up with others and can help us make an impact across the Web. (Time commitment is minimal and at your own pace.)
Telling a good story and speaking your mind on issues that matter to you, could put you as a feature on AARP MD's state blog as an AARP Maryland Guest Blogger. (Topics are flexible, and time commitment is too.)
Are the legislative process and government relations up your alley? Attending legislative hearings, organizing grassroots groups, and meeting with lawmakers are just some of the many opportunities for our AARP Maryland Advocate. (Time commitments vary.)
Calling all "selfie" takers! AARP MD wants to train Photographers to shoot pictures and videos at events. These volunteers will attend exciting events and learn valuable, marketable skills along the way. (Time commitment is flexible. Need smart phone.)
As an Arm-Chair Advocate, you can help improve policies that affect Marylanders 50+. Other contributions include conducting research, emailing legislators, and even helping to draft testimony and other materials for our advocacy activities. (Time commitments vary.)
If you are constantly safe behind the wheel, you could become a driver safety instructor. AARP Driver Safety's nationwide network of volunteers teaches drivers 50+ how to stay safe on today's roads.
Join the nation's largest free and volunteer-run tax preparation and assist in helping low- and middle-income taxpayers as a Tax-Aide Volunteer. (No experience necessary, time commitment highest during tax season.)
What's it like to "give where you live?" Let our volunteers tell you!



Want to do something different? Discover hundreds of ways AARP helps you make a difference in Maryland at www.CreateTheGood.org.

If you want to make a difference with others who share your commitment and have fun doing it, make sure you join us on April 21st!

Details and registration are available at http://aarp.cvent.com/MDVols15 or by calling 1-877-926-8300. Seats for this event WILL fill up quickly.