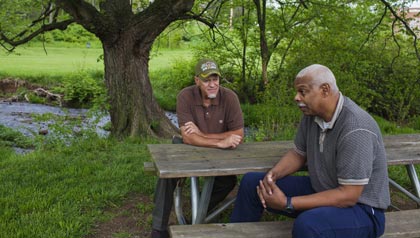 By Robin Farmer
For Mac McCadden, a retired principal and former Roanoke councilman, June 19 is a special day. That was the day in 1865 when black slaves in Galveston, Texas, learned they were free—more than two years after the Emancipation Proclamation.

"Juneteenth" celebrations now are held on or around the 19th of June because news of their freedom arrived in different places on different dates.

This year's Roanoke Juneteenth event will be held June 15 from noon to 5 p.m. in Washington Park.

McCadden, 64, has been volunteering at the Roanoke Juneteenth festival since it began in 2007 by setting up the stage and operating the sound equipment.

"I am excited because the history of what has happened—and how we got to where we are now—is extremely important in leading us to where we need to be," he said.

In a metro area ranked a decade ago by the U.S. Census Bureau as having the most segregated neighborhoods in Virginia, McCadden is thrilled by the broad appeal of the free event, which attracted 5,000 attendees last year.

"This is for the community, and it doesn't cost them a dime. It draws all kinds of people," McCadden said. "I think that's what makes this particular festival stand out. The crowd is extremely diverse culturally, ethnically and economically."

Community outreach

Sponsored by the Roanoke Chapter of the Southern Christian Leadership Conference (SCLC), the 2012 festival served 8,000 drinks, 2,000 bags of chips and snack cakes, 1,600 pieces of fried chicken, 1,400 hot dogs and 1,400 hamburgers, among other items. Corporate cosponsors will donate the food, cooked on-site, again for this year's festival. AARP Virginia is a longtime cosponsor.

Participation in the celebration delivers an important message, said Lorraine Bratton, an AARP volunteer from Vinton. She said many people "think AARP is just for white folks."

For the sixth year, Bratton plans to distribute brochures about ways older adults can stay physically fit, vaccine recommendations for older people and medical tests needed by adults over 50. She will also offer handouts about AARP Driver Safety and the AARP Foundation Tax-Aide program, which helps low- to moderate-income taxpayers prepare their tax returns at no charge.

AARP Virginia is increasing its participation in community events in Roanoke, Bratton said. There will be a HomeFit Workshop, which details modifications homeowners can make to help them age in place, on June 14 from 9 a.m. to 1 p.m. at the Vinton War Memorial, and a You've Earned a Say forum on ideas to strengthen Medicare and Social Security on July 10 from 10:30 a.m. to noon at Roanoke's South County Library.

Providing role models

In a city with a gang problem, the festival provides role models while highlighting African American history, said Jeff Artis, 56, a Noel C. Taylor Learning Academy teacher and the organizer of the Roanoke Juneteenth event.

"One of the problems you have with young folks ... who want to go into thug life [is that] they don't have a working knowledge of African American history and what we have been through as a people," Artis said.

"I hear them say how hard it is for them. My position is [that] it's as hard as you make it. … If you want to see 'hard,' imagine yourself being on a plantation ... where you're 14, married with a couple kids, and you have to be in the field picking cotton from sunup to sundown. You'll probably live to 40 if you are lucky and you will probably … be sold a few times."

Other Juneteenth activities include:

Hardy—June 15, 11 a.m. to 4 p.m., free celebration featuring children's activities, interpretive programs and food for sale at the Booker T. Washington National Monument.
For more Juneteenth events, go to virginia.org/JuneteenthinVirginia.

Robin Farmer is a freelance writer based in Mechanicsville, Va.