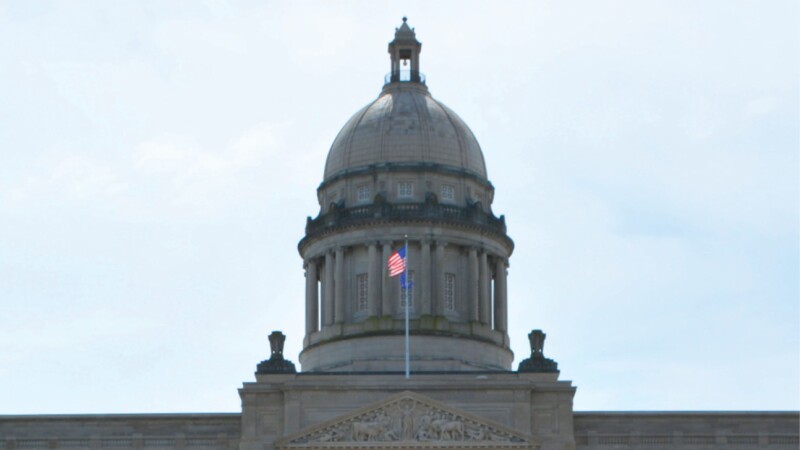 Kentucky General Assembly & AARP Day at the Capitol 2023
AARP is making a difference in Kentucky – whether it's fighting to protect your hard-earned Medicare and Social Security benefits, saving you money on your utility bills, or ensuring you can live independently as we age. Kentucky's 2023 General Assembly begins January 3, 2023. During this 30-day "Short Session" our local volunteers and grassroots activists from across the state will advocate on policy issues that matter most to Kentuckians 50-plus and their families. AARP Kentucky will be in Frankfort supporting relief for family caregivers who pay expenses out of their own pockets' and fighting to prevent the financial exploitation of vulnerable adults.

Get Involved & Take Action
We need your help to connect with lawmakers during the 2023 General Assembly to keep costs of living affordable and supporting the needs of Kentuckians 50-plus. Watch your email for more updates and details. You can help by monitoring the session and engaging your lawmakers in-person and remotely in support of AARP Kentucky's legislative priorities. These issues include: lowering prescription drug prices, eliminating health care disparities, financial security in retirement, supporting unpaid family caregivers, increasing independent living options, and access to affordable high-speed internet for all Kentuckians.

Register - HERE to join us for 2023 AARP Day at the Capitol (Thursday, February 23 beginning at 8:30 a.m. and Rally in Capitol Rotunda 11:30 a.m. ET) -or-register by phone 1-844-418-2281.

Sign Up for AARP Lobby Day at the Capitol
AARP Kentucky is offering two "How To" grassroots (virtual) training sessions to prepare volunteers, activists and chapter members on priority legislative issues, scheduling meetings with lawmakers, providing issue talking points, and how to build relationships with lawmakers. Save the dates: Session One: February 9 at 10:00 a.m. ET and Session Two: February 16 at 7:00 p.m. ET (attend one or both!).

Watch the recap of the volunteer Zoom training session, HERE.


Download and share the AARP Day at the Capitol "Save the Date" invitation (PDF) for you and your friends, HERE.
Find and connect with to your legislators, HERE.
Register - HERE for AARP Day at the Capitol 2023 (Thursday, February 23).
Please contact our Advocacy Managers Eric Evans or Daniel Roe with your questions:
Eric Evans 502-394-3427 edevans@aarp.org
Daniel Roe 502-394-3428 droe@aarp.org

Follow AARP Kentucky on social media: Twitter: @AARPKY & Facebook.com/aarpkentucky #kyga23 #AARPKY

NEW - 2023 Lobby Day Agenda with Priorities
✅ Download AARP Kentucky Lobby Day Agenda and Priorities
NEW - 2023 Volunteer Tip Sheet
Volunteer Grassroots Tip Sheet for AARP at the Capitol
Download Activists' Resources for 2023 AARP Day at the Capitol
✅ Download - AARP Kentucky 2023 Legislative Priorities
✅ Download - Kentucky Long Term Care Scorecard
✅ Download AARP - Nursing Home COVID-19 Factsheet - Kentucky
✅ Download AARP - Kentucky Prescription Drug Prices
✅ Download AARP - 2023 Grassroots Advocacy Resources
✅ Download AARP - Effective Meeting Tips for Lawmakers
✅ Follow Kentucky's General Assembly and more on Kentucky Educational Television KET
✅ Success with Your Zoom Meetings - Tips, Tricks and More

Watch: A Look at the Kentucky General Assembly
You Can Make a Difference. Join AARP's Mobile Activist Team!
AARP advocates on issues like Social Security, caregiving, financial security, independent living, health care, utilities and internet access, age discrimination, prescription drug prices and more. We can't do it without people just like you who share an aspiration to make a difference and improve the quality of life for residents of all ages. Join our team where you can make an impact in your community. Discover how you can become a volunteer at www.aarp.org/iwanttovolunteer. Text JOIN to 22777 to subscribe to recurring text from AARP to stay up-to-date with advocacy information and alerts.*

*By providing your mobile number you are consenting to receive recurring text messages from AARP at the number provided. Your consent is not required as a condition to purchase goods/services. Message and data rates may apply. Subject to SMS Terms and Conditions: https://aarp.info/tcofr. Reply HELP for help, STOP to opt out.