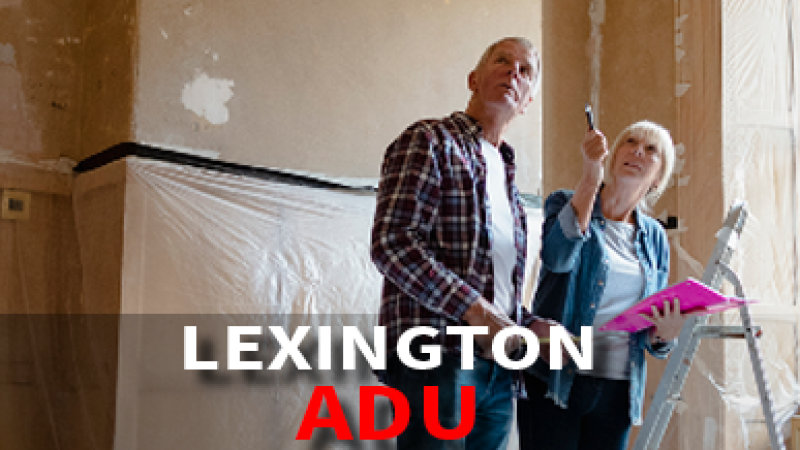 Accessory Dwelling Units (ADUs) in Lexington
Now, more than ever, we need innovative housing solutions to meet the needs for today's families – and tomorrow's. The high cost and lack of available new living space presents today's families with unique housing challenges. There's a solution we're all familiar with and homeowners have called them carriage houses or mother-in-law suites for decades. But, today they have a new name: Accessory Dwelling Units, or ADUs.

AARP Kentucky is proud to have championed updating regulation of Accessory Dwelling Units (ADUs) in Lexington. The updates by LFUCG Zoning Ordinance Text Amendment 2019-5 Articles 1, 3, 8, 15, 22 and 23 of the LFUCG Zoning Ordinance are an important step to help families stay close. ADUs provide a unique housing solution to today's challenges. They can be utilized to keep multi-generational families together or give homeowners the option to rent part of their property in order to afford their primary residence. And now, especially during the pandemic, ADUs represent an affordable housing option so people can live independently longer close to family.

LFUCG ADU Resources

ADU Webinar Watch Live Discussion of Accessory Dwelling Units via Lexington-Fayette County Urban County Government's Planning and Public Safety Committee (8/10/21) HERE (Lex TV)

Read More: Support Updated Regulation of Accessory Dwelling Units (PDF)

🔘 Watch Part One - ABCs of ADUs "101" HERE
The ABCs of ADUs (Accessory Dwelling Units) "101" Virtual Event Recorded LIVE - Thursday, May 20, 2021.

🔘 Watch Part Two - ABCs of ADUs "102"HERE
ABCs of ADUs (Accessory Dwelling Units) "102" Virtual Event Recorded LIVE - Thursday, June 10, 2021
Both of these live (virtual) community events were made possible with guests from the Lexington Senior Services Commission, local ImagineLex planning staff, and local advocates to sharing there experience petite, discrete, and affordable housing choices for all ages in Fayette County.
You'll learn more about flexible housing options: What is an Accessory Dwelling Unit (ADU)? Why do people create them? Who could benefit from an ADU? How can flexible housing options help caregivers? How will creating new living space benefit people of all ages?

What are Accessory Dwelling Units? An Accessory Dwelling Unit (ADU) is a fully self-contained home with its own kitchen, bathroom(s) and sleeping area on the same lot as the main house. They're a smart match for smaller households and can be created through basement or garage conversions, additions, or new construction of back yard 'tiny homes. Typically, most residential zones and requires that they be discreetly located to fit in well with the surrounding neighborhood. Oftentimes, they're invisible from the street. However, you should check local regulations to be sure your project is in compliance.Creative design of ADUs can take many different forms and styles, they can fit discreetly into all sorts of communities, including suburban subdivisions, row-house streets (either with or without back alleys), urban neighborhoods — and, of course, large lots in rural areas.


DETACHED ADU is a stand-alone home on the same lot as a larger, primary dwelling. Examples include backyard bungalows and converted outbuildings.


(Note: Today, LFUCG ZOTA did not permit for detached units. AARP is working to change that in the coming months.)

ATTACHED ADU connects to an existing house, typically through the construction of an addition along the home's side or rear. Such units can have a separate or shared entrance.
GARAGE ADU makes use of an attached or detached garage by converting the space into a residence. Other options involve adding a second story ADU above or beside a garage or building a new structure for both people and cars.
INTERNAL ADU is created when a portion of an existing home is partitioned off and renovated to become a separate residence. This can be a LOWER-LEVEL ADU created through the conversion of a home's existing basement (provided that height and safety conditions can be met).

Back To Top
More About ADU Value
• According to a 2010 AARP Survey, 92% of seniors wish to stay in their communities. ADUs give them the flexibility to do so.
• ADUs may provide a lower-cost alternative to assisted living, which, according to research by Genworth, can cost seniors and their families over $3,500 per month.
• According to David Shove-Brown of the Architecture Firm //3877, ADUs may add value to residential property.
• Because of city ordinances and construction regulations, ADUs will blend into the neighborhood.
*This information is provided for educational purposes only. For more information, please contact AARP Kentucky at kyaarp@aarp.org

Back To Top

How Accessory Dwelling Unit Help Families

ADUs Help Families Address a Variety of Housing Needs
Download More from AARP: Accessory Dwelling Units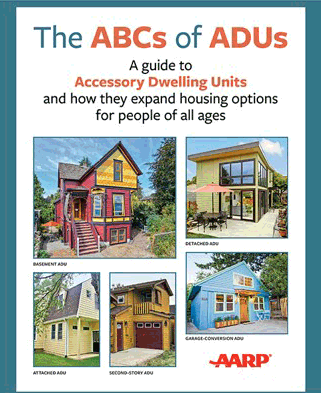 The ABCs of ADUs: Free guide to how accessory dwelling units create more housing options for people of all ages.

Great Neighborhoods for All Ages
Need more local data about housing or transportation your community? Visit the Updated AARP Livability Index. The AARP Livability Index scores neighborhoods and communities across the U.S. for the services and amenities that impact you the most.