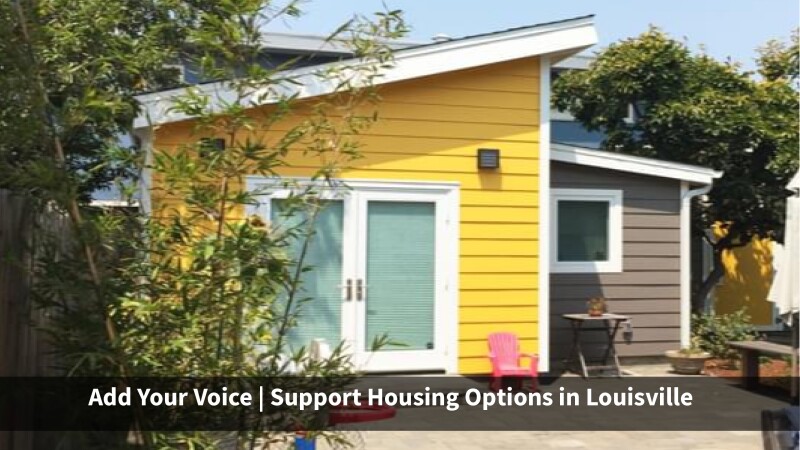 Reforming Louisville Metro Land Development Code

Home is central to individual and community well-being and should support our lives both today and into the future. While the majority of Americans want to live independently in their homes as they age, AARP expects that by 2030, our nation will face a severe shortage in accessible and affordable housing to meet the needs of the 1 in 5 Americans who will be over the age of 65 in our country.

Louisville Metro Government is now continuing its process of updating the Land Development Code (LDC) to create more affordable housing options across Jefferson County. Louisville's LDC is the set of rules governing what land owners can do with their property. It determines the kinds of structures that can be built on private property and their uses. Part of the process in creating the recent Phase One - Recommendations (PDF) included a series of public meetings hosted by Louisville Metro Office of Planning & Design Services and its new LDC website.

What can you do?
Earlier in February 2021, Louisville Metro Planning & Design Services released its most recent list of recommended policy changes and amendments to the LDC. Now, these changes are ready for review and action by the Planning Commission, Metro Council Members, and other legislative bodies with zoning authority in Jefferson County. For more updated information about reforming Louisville Metro's Land Development Code.

Take Action - Now
AARP is urging Jefferson County residents to make their voices heard in support of increased housing options in reforms to the Land Development Code.
✅ Please contact your Louisville Metro Council Member, Send Your Email-Here.
✅ Ask them to support the recent recommended reforms to the Land Development Code.

✅ Send your email supporting the proposed Land Development Code reforms. You may also send comments via email directly to: LDCreform@louisvilleky.gov or leave a message on the LDC reform hotline (502) 574-4737.

Why ADUs work? Accessory Dwelling Units are not new and can go by many different names (in-law units, English basements, bump-outs, or alley flats). ADUs can help promote independent living, increase affordable housing options, support families with aging or disabled loved ones - and keep them close. As small built on the same property lot as a single-family residence, ADUs are playing a major role in meeting housing needs. This traditional home type is re-emerging as an affordable and flexible housing option that meets the needs of older adults and young families alike. ADUs can be a cost-effective option of increasing the supply of market-affordable rental housing in a community and accommodating new growth without dramatic changes to the character of a neighborhood.

Watch more about Accessory Dwelling Units
In this video, planners and families discuss the benefits of having an ADU including generating additional income, providing housing for a family member in need of care, expanding affordable housing options for community members and creating an accessible living space to support aging in place.
ADUs Help Families Address a Variety of Housing Needs
Read more AARP resources and updates on Accessory Dwelling Units and local zoning ordinances, here.