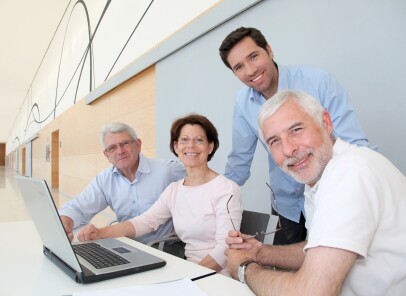 Are your family and friends on Facebook, while you're still wondering what's in it for you? Or if you already use Facebook, do you worry about privacy on the social network? Hate sifting through irrelevant or annoying posts and game invitations to find what you're looking for?
Do you want to learn about getting started on Twitter, and how it can help you follow breaking news, "jump the line" for customer service, cheer on your team, comment during a TV show you like, and much more?
AARP Nevada is teaming up with the City of Las Vegas and the City of Henderson in 2016 to offer social media classes made just for you! These small group, hands-on classes are designed for active learning, to help you get the most out of Facebook and Twitter - the most widely-used social networks.
Upcoming classes are listed below by location, along with registration instructions. Please note that space is limited, so advance registration is required for each class. If you have a Facebook or Twitter account, please bring your username and password to class so you can log in. If you don't have an account and need help signing up, please plan to arrive 30 minutes before the scheduled class time.
City of Las Vegas Centennial Hills Active Adult Center - 6601 N. Buffalo Drive - call 702-229-1702 to register for these classes. ( Call to inquire about City of Las Vegas active adult/senior membership and other center requirements)

Friday, March 11, 1:30 PM - Twitter: It's Not Just for the Birds (beginning)
Thursday, March 17, 1:30 PM - Getting Started with Facebook (beginning)
Friday, March 25, 10:30 AM - Getting Started with Facebook (beginning)
Friday, March 25, 1:30 PM - Learn to Love Facebook (intermediate)
Friday, April 1, 9:30 AM - Twitter: It's Not Just for the Birds (beginning)
Wednesday, April 6, 9:30 AM - Learn to Love Facebook (intermediate)
Tuesday, April 12, 9:30 AM - Getting Started with Facebook (beginning)
Thursday, April 21, 1:30 PM - Learn to Love Facebook (intermediate)
Thursday, April 28, 1:30 PM - Getting Started with Facebook (beginning)
Tuesday, May 3, 9:30 AM - Twitter: It's Not Just for the Birds (beginning)
Tuesday, May 10, 9:30 AM - Getting Started with Facebook (beginning)
Friday, May 20, 1:30 PM - Learn to Love Facebook (intermediate)
Wednesday, May 25, 9:30 AM - Getting Started with Facebook (beginning)
Tuesday, May 31, 9:30 AM - Learn to Love Facebook (intermediate)
Tuesday, June 7, 1:30 PM - Getting Started with Facebook (beginning)
Tuesday, June 14, 9:30 AM - Learn to Love Facebook (intermediate)
Thursday, June 16, 1:30 PM - Getting Started with Facebook (beginning)
Thursday, June 23, 1:30 PM - Learn to Love Facebook (intermediate)
Wednesday, June 19, 1:30 PM - Twitter: It's Not Just for the Birds (beginning)
City of Henderson Heritage Park - 300 S. Racetrack Road - call 702-267-2950 to register for these classes. (Call to inquire about City of Henderson senior membership and other center requirements)

Tuesday, April 5, 5:30 PM - Getting Started with Facebook (beginning)
Tuesday, April 12, 12:30 PM - Getting Started with Facebook (beginning)
Tuesday, April 19, 5:30 PM - Getting Started with Facebook (beginning)
Tuesday, April 26, 5:30 PM - Learn to Love Facebook (intermediate)
Tuesday, May 3, 12:30 PM - Learn to Love Facebook (intermediate)
Tuesday, May 10, 5:30 PM - Learn to Love Facebook (intermediate)
Tuesday, May 17, 5:30 PM - Twitter: It's Not Just for the Birds (beginning)
Tuesday, May 24, 12:30 PM - Twitter: It's Not Just for the Birds (beginning)
**These classes are not AARP-hosted events. Any information you provide to the host organization shall be governed by its privacy policy. For City of Las Vegas and City of Henderson membership details and other requirements, please contact the facility directly.