The voices of AARP Nevada members were heard loudly and clearly during the 77th session of the Nevada Legislature, which concluded in early June. A number of notable laws were passed or positively impacted by the AARP team, resulting in stronger consumer protections, improved access to health care and more.

Among the notable achievements this session:

Strengthening consumer and legal protections:

Homeowners Bill of Rights (SB321) Nevadans will be afforded better protection from predatory foreclosure practices and have additional rights in the loan modification process as a result of this new law. AARP activists throughout the state sent letters to legislators urging passage of the bill, which wound up with unanimous support in both the Senate and Assembly.

Prohibition of mandatory time of day utility rates (AB173) This bill makes any utility rate plans based on time of day optional, meaning customers who choose to may opt in, but utilities can't require participation. This protects stay-at-home parents, those who are housebound and others from being forced into a plan that would end up costing them more. Nevada is the first state in the nation to pass a permanent prohibition on mandatory time of day rates - a tremendous victory for consumers!

Crimes against seniors (AB55) In another unanimous passage, the Legislature approved this bill to increase penalties for attempted crimes against older adults.

Protecting home and community-based services:

AARP Nevada advocated successfully for a small increase in the state's budget support for home and community-based services that allow many older adults the opportunity to live at home and in their own communities. This is notable as the first budget increase in this area after several years of cuts and reductions in services.

Access to quality, affordable health care:

Alzheimer's care (SB86) This law, passed unanimously in both houses, provides critical respite care services for those suffering from Alzheimer's Disease, regardless of age.

Advanced Practice Nurses (AB170) Greater autonomy in services provided by Advanced Practice Registered Nurses (APRN) was authorized by virtue of this law, with the aim of affording additional access to care and shortening appointment wait times for Nevadans.

Medicaid expansion - Nevada also approved Medicaid expansion under the Federal Health Care Law, providing health care coverage for more than 30,000 single adults aged 50-64 who currently have difficulty obtaining coverage. It will also bring over $390 million dollars in federal funding to our state.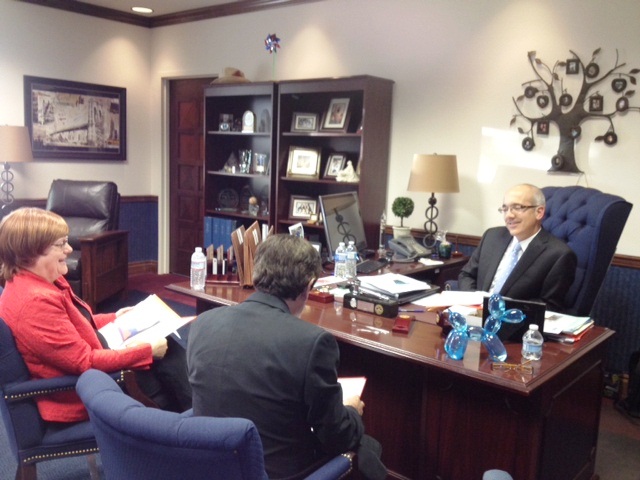 You make the difference!

These legislative victories would not have been possible without the support of AARP Nevada members. Thank you for your vigilance in following and participating in the process throughout the legislative session.

Although the 2013 session has ended, we hope you will stay engaged and informed on the implementation of these new laws, and developing issues addressed by interim committees over the coming year. If you haven't already done so, please join the Nevada Legislative Posse by signing up here.



Photos by AARP Nevada staff:

The Nevada Legislature, Carson City
AARP Nevada Government Relations Director Barry Gold and State President Mary Liveratti meet with Senate Majority Leader Mo Denis during the 77th legislative session