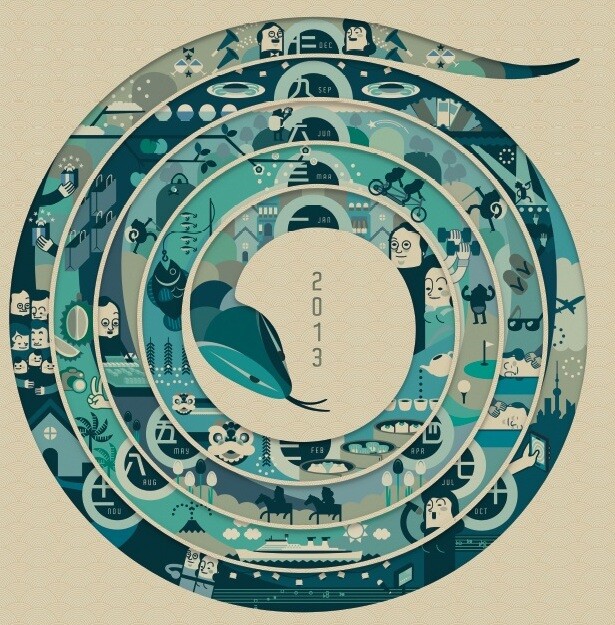 Although the Times Square Ball has already dropped, there is still time to resuscitate those New Year's resolutions before the firecrackers sound on February 10th -- this year's official start to the Lunar New Year.
Celebrated by the Chinese, Koreans, Mongolians, and Vietnamese, the Lunar New Year begins on the second new moon following winter solstice. For fifteen days straight, a myriad of festivities flood the streets. Dumplings are consumed by the ship ton, Mahjong played by the shift, and firecrackers lit by the matchbox. Many of the festivities are decorated with the color red, which symbolizes luck, prosperity, and protection from a hungry, flesh-eating half-lion, half-dragon named Nian. Besides traditions and celebrations, the Lunar New Year also marks the passing of the torch from one Zodiac creature to the next.
The Zodiac champion for the Year 2013 is the Snake. For those born in 1953, or every twelfth year following or preceding it, this is your year! For those not born in a snake year, it would be wise to appease snake acquaintances as their good fortune will rub off on you!
The first thing to know about a snake is that they are easily stressed by noisy atmospheres and hectic schedules. To succeed in 2013, snakes should focus on restoring order and tranquility into their lives. Whether it be amending your sleep schedule, or treating yourself to a real vacation, the focus should be on balancing out the negative energy (stress, anxiety, fatigue) with positive counterweights.
As a new Lunar Year rounds the corner, AARP is here to protect you from the treacheries of the beast, Nian. AARP's recently launched Asian American Community page features special coverage on political issues, a spotlight on community leaders, and retirement advice pertaining to the Asian Community.
Some parting words of wisdom from a highly regarded snake:

"Cheers to a new year and another chance for us to get it right."
-- Oprah Winfrey