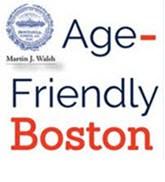 Boston is taking steps to join the World Health Organization's network of age-friendly cities. Such cities strive to provide pedestrian-friendly streets, affordable housing, transportation options, easy access to key services and opportunities for residents to participate in community activities.

To achieve these goals, the city will survey Bostonians about what aspects of their lives they would like to see improved. The city also will convene meetings between the mayor's office and departments of transportation and public works to identify areas of collaboration.

For more information, call AARP Massachusetts toll-free at 866-448-3621. For tips on how to talk with local leaders about making your community age-friendly, go to aarp.org/livable. In addition, go to aarp.org/livable-newsletter to sign up for an award-winning livable communities newsletter.