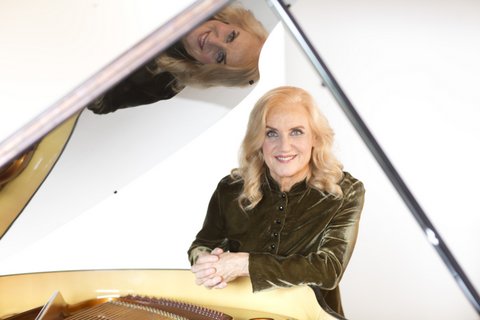 By Russell Nanod

Music is powerful and special things happen when it is tied to personal friendship. When my wife and I walked into Lewer's Lounge at the Halekulani more than a year ago, we met a talented artist that would become a treasured and special friend.

Maggie Herron has been called "the Big Island's jazz goddess" for her world class keyboard playing, expressive vocal style and ability to compose heartfelt, mature songs and embrace and words and melodies of others as her own.

Herron came to Hawaii in 1976, and was instantly captivated by what the Hawaiians call the mana - or spiritual energy and power. "I fell in love with the air, the water, the light, and found peace in the islands' remoteness," she says.

She is the ninth of 12 children. Her parents raised the family in Muskegon, Michigan, where they owned and operated a grocery store. Home was filled with siblings practicing on musical instruments, listening to Frank Sinatra, pop and rock of the 50's and 60's while Maggie immersed herself in classical music beginning at age six. By the time she was 10 she was the church organist and vocalist. Soon, she would win the first of many awards for her musical talent.

She has performed with the likes of Dave Brubeck, Richie Havens, Taj Mahal, Olomana and the Jazz Crusaders – and as a keyboardist and vocalist with Cecelio and Kapono in club and concert venues.

Being a lover of nature and quiet surroundings she chose to live on Lanai where she was the principal musician for 12 years at Manele Bay Hotel. But life changes, and Maggie has had to make adjustments along the way to live life to the fullest.

Taking care of her health has been a priority. "I have been a runner since I was a young girl. I was influenced to train for races and marathons in my 40's by my husband. Though I trained many years for triathlons, I only entered six or seven competitions including Honolulu and Maui marathons," she said.

"The overarching objective of my workout routine has always been to stay healthy.
About seven years ago I was experiencing micro injuries too often from running so I started running less. I eventually became a walker. I feel great and am injury free. I also swim 5 days a week for about 35-40 minutes each day. It's a modest exercise program and when added to my rigorous vocal and piano exercise routine, it keeps me healthy and happy.

AARP members know about Life Reimagined, which offers a step-by-step approach to discovering new possibilities and adapting to new life phases. Herron has done her share of adapting too.

"I was divorced 10 years ago in my 50's. It was a crushing experience and it took a few years to recover emotionally," she said. "Music was my first love. Although I had always performed consistently, recorded albums and CD's, and made a good living from it, I always held myself in check. Being alone has in essence been my 'reboot' and given me the opportunity to flourish as a musician. Music lives inside of me every moment. It's my personal miracle in life."

She was recently diagnosed with Dupuytren's disease (where the fingers bend towards the palm and cannot be fully extended). Herron had been performing 5 nights a week in addition to practicing two-to-three hours daily. Since cutting back to performing four nights a week, her hands feel much better and it has allowed her time to focus more on writing and composing new music.

Reflecting on her life, Herron says, "I've been very fortunate to be able to follow my dreams and do what I've loved as a profession. I'm very happy with where I am at today so I don't know how alternative decisions would have made my life any richer. I don't think I have taken the easiest road, though. I ran away from home as a teen, had my first child at 19 and started as a single woman again in my 50s. Throughout this journey a moral compass has guided me and the many varied experiences have shaped who I am. It would be interesting to see where alternative roads would have led me, but I am very excited to be where I am at today."

Her soon to be released CD "Good Thing" was produced by award-winning Brian Bromberg, features five tracks written wholly or in part by Herron (two with her daughter) and eight interpretations of songs originating from the Great American Songbook and sources as diverse as Joni Mitchell, Henry Mancini and Johnny Mercer.