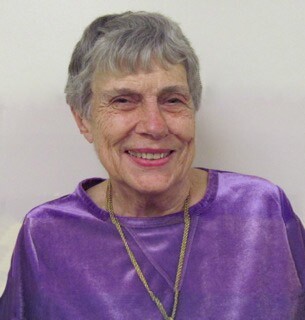 By Helen Altonn
Diane Logsdon, 83, says volunteer work "keeps me going. If I sat down, I would just collapse and do nothing."
Despite a mind-boggling record of volunteer contributions over the years, the Kula, Maui, woman says she was surprised to be selected for the 2014 AARP Hawaii Andrus Award for Community Service.
"I was dumbfounded to be picked over 22 people for the Andrus Award," she said in a telephone interview during a regular shift with the Maui Friends of the Library.
In nominating Logsdon for the award, Kathleen V. Phillips wrote, "Diane's middle name is 'volunteer.'" She described Logsdon as "a courageous woman…an example of zeal, fervor, perseverance and commitment to her fellow man."
The Andrus Award honors the legacy of AARP's founder, Dr. Ethel Percy Andrus. It is
AARP's most prestigious tribute for outstanding volunteers.
Logsdon also received the 2013 Outstanding Older American Award for Maui County because of her volunteer service, leadership and care giving activities. "She is very giving to both AARP as well as to our community," said Phillips, president of the Kula AARP Chapter.
Logsdon had several businesses on Oahu until moving to Maui in 1989 after she was diagnosed with macular degeneration. "I am legally blind," she said. "That's when I started volunteering."
She owned and operated Maui Bear Hugs for two years, collecting free teddy bears, washing and putting clothes on them and distributing them to police and fire stations to give to accident and fire victims. "I really, really loved that," she said. She wants to do it again but no longer drives and has difficulty getting around to thrift stores to collect bears.
Besides Maui Friends of the Library, her activities include the Maui Senior Citizens Planning and Coordinating Council, an organization of 51 senior clubs on Maui that meets regularly to discuss senior issues.
She oversaw the building of Dolly's Hale, a new structure at Kula Hospital that allowed the thrift store to expand, and directed creation of a hospital garden for patients and hospital employees to enjoy.
In addition: she participated in statewide transportation master plan meetings to ensure highway safety; testified at county budget hearings regarding senior and community concerns on Maui and throughout Hawaii; and tackled a bus name signs project for MEO Transportation, seeking donations from vendors and coordinating a bake sale to facilitate the project.
"She takes advocacy for senior needs seriously and corresponds with members of Congress, State Legislators and County Council members on issues that are important to senior benefits," said Phillips.
Logsdon never says, "I can't," despite some physical problems, including knee replacement and eye surgery, Phillips said.
"She exemplifies that age really is just a number, as her life has been devoted to helping others…. She shows us day after day how one person's passion can lead others to action for the good of many."
As to how she gets the energy to do all she does, Logsdon says simply: "You've got to keep going."