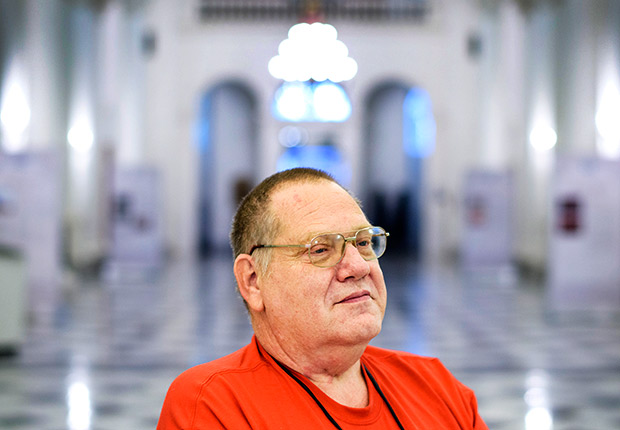 By Effie Dawson

John Henkel, who is unable to work because of health issues that include joint and skeletal problems, has been covered by Maryland's Medi­caid program since 2011. He's grateful to have the health care.

The Baltimore resident receives free primary care and referrals for free treatment from specialists, including cardiologists, neurologists, orthopedic surgeons and physical therapists. Maryland's Medicaid also covers benefits that are optional under federal guidelines, so Henkel, 61, gets free vision treatment and basic dental care. He also gets free generic prescriptions and pays $1 for name-brand ones.

"I am so satisfied that I hope it never changes," Henkel said of the program, which celebrates its 50th anniversary this month.

Henkel, who is also an AARP volunteer advocate, is one of nearly 1.2 million Maryland residents covered by the state's $9.6 billion traditional Medi­caid program, for which the federal government pays roughly 60 percent of the costs.

Medicaid expansion, under the federal Affordable Care Act, added more than 300,000 adult residents to the program. The federal government currently pays the full cost of those covered by the expansion, a share that will decline to 90 percent by 2020. People with incomes up to about $16,240 for individuals and $27,720 for a family of three are eligible.

Shift toward home care
Three-fourths of Medicaid recipients in Maryland, including Henkel, are enrolled in one of eight managed care organizations that contract with the state.

Shannon McMahon, Maryland's state Medicaid director, said the managed care system has helped control state costs.

She said the state monitors the organizations through reports from its payments system to ensure accountability.
Other enrollees receive care through nursing homes. And a growing number of people receive services through programs that fund home- and community- based care to help them stay in their homes longer.

The state's approach to hospital fees also benefits Medicaid enrollees, said Karoline Mortensen, an assistant professor at the University of Maryland's Department of Health Services Administration.

Maryland is the only state with an "all-payer" approach to hospital fees. A state commission sets reimbursement rates a hospital can receive for specific services, so a hospital gets the same reimbursement for treating a Medicaid enrollee as it does for a patient covered by private insurance.

That means hospitals "have the same financial incentive to treat a Medicaid patient as they would any other patient," Mortensen said. In addition, Maryland recently adopted a system that caps payments to hospitals and creates incentives for them to help patients stay healthy after they are discharged, she said.

"The Medicaid program is doing a tremendous job here to help people," said Vincent DeMarco, president of the Maryland Health Care for All! Coalition, an advocacy group.

Still, there are challenges.

"More people have access than they've ever had before through Medicaid expansion, and that creates more of a financial liability to the state," said Tammy Bresnahan, AARP Maryland advocacy director.

She said it is unclear how Gov. Larry Hogan (R)—who has pledged to reduce state government spending—might change the Medicaid system.

"There is a new administration and we look forward to working closely with them," she said.

McMahon said Medicaid officials will continue to look for ways to control costs.

A $2.5 million federally funded pilot study, for example, is exploring the use of an accountable care organization for residents eligible for both Medicaid and Medicare.

These enrollees make up 12 percent of Maryland's Medicaid population but represent 30 percent of expenditures, McMahon said.

Effie Dawson is a freelance writer living in Arnold, Md.