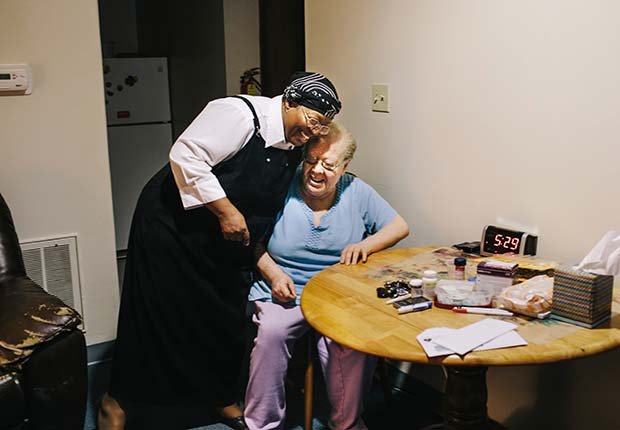 By Christopher J. Gearon

Regina Brisco, 58, of Salisbury, knows a thing or two about caregiving.

She helps her sister look after their 82-year-old mother in Cambridge, assists her husband in managing his diabetes and resulting neuropathy, and cared for him before his kidney replacement. She also helps several septuagenarians through her church and volunteers at the Maryland Home & Community Caregiver Resource Center.

She said she thinks Maryland's 1.2 million caregivers need more support, recognition and resources to help them better care for their loved ones. One "crucial need," said Brisco, is better coordination and communication between health care providers and family caregivers.

"That would be tremendously helpful," she said, adding that caregivers are stretched thin, often juggling jobs and families while assisting aging relatives.

AARP is encouraging states such as Maryland to enact the Caregiver Advise, Record, Enable (CARE) Act. Already enacted into law in two states and pending in others, the act requires hospitals and rehabilitation facilities to contact the caregiver of record and instruct him or her on needed medical tasks before a patient is discharged.

Advocates say better communication with health care facilities about the changing medical needs of the patient—from managing new medication routines to wound care and injections—would help prevent unnecessary hospital readmissions or nursing home stays.

The CARE Act, along with a proposal to help workers at smaller companies save for retirement, will top the AARP Maryland agenda when the General Assembly convenes Jan. 14.

"We're looking to help equip family caregivers with the support they need," said Hank Greenberg, AARP Maryland state director. The CARE Act would better support family members as they safely help older relatives remain at home.

"The vast majority of Marylanders want to live independently at home," Greenberg noted. The legislation recognizes the critical role that family caregivers play in keeping their loved ones out of costly institutions.

"We're talking about a multibillion-dollar issue," said Renée Fredericksen, special projects director at Maintaining Active Citizens Inc. (MAC), an Area Agency on Aging in Salisbury.

The Maryland Hospital Association has not taken a position on the CARE Act.
Maryland's caregivers provide about $8 billion a year in unpaid services such as providing transportation and meals, and assisting with finances and medical tasks, thus saving taxpayers a lot of money. "Caregivers are a very important slice of our society," Fredericksen said.

Maryland ranks 23rd among states for meeting the long-term care needs of older residents and 33rd in support of caregivers, according to a caregiving support scorecard released this year by AARP, The Commonwealth Fund and the SCAN Foundation. The state can do better, Greenberg said.

Funding retirement

To help residents obtain a more secure retirement, AARP Maryland is advocating an easy and nearly no-cost way for Maryland employers to offer private-sector workers a retirement fund.

The "Work and Save" legislation proposes a public-private partnership that would give working Marylanders access to a retirement savings plan similar to popular 529 college savings plans. "We call it the 529 plan for retirement," said Sarah Mysiewicz Gill, an AARP senior legislative representative.

Greenberg noted that Marylanders, like all Americans, "aren't saving enough for retirement," adding that almost "41 percent of near-retiree households have no retirement savings at all."

A big reason is that about half of Maryland workers do not have access to a retirement plan through their employer. Having such access boosts retirement savings by more than 13 times, Greenberg said.

For more information, or to get involved with AARP Maryland's fight for the CARE Act or "Work and Save" in the state legislature, email Tammy Bresnahan at tbresnahan@aarp.org.
Christopher J. Gearon is a writer living in Derwood, Md.