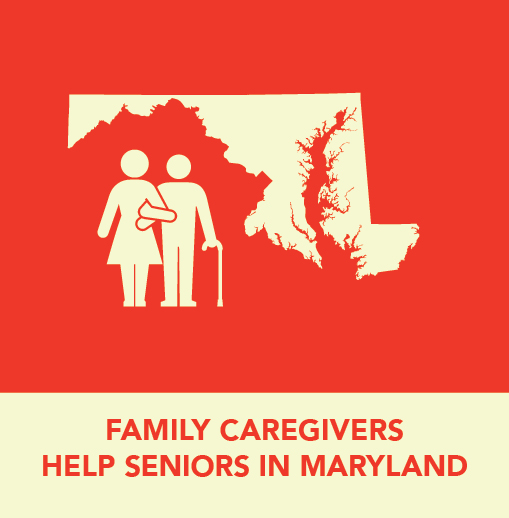 AARP Maryland has released findings of a statewide survey highlighting Maryland family caregiver experiences, challenges and needs. The survey recognizes and supports the important role that an estimated 771,000 Maryland residents have as family caregivers. Their unpaid work and assistance makes it possible for their parents, spouses or other loved ones to live independently at home – where they want to be.

"Today in Maryland, more than half a million unpaid family caregivers are the unheralded backbone of our state's care, valued at about $9.3 billion in unpaid care annually," said Hank Greenberg, State Director of AARP Maryland, which represents more than 880,000 Maryland members age 50 and older.

The survey of 1,000 Maryland registered voters age 45-plus, shows that 58% of Maryland registered voters age 45 and older either are currently family caregivers or have been in the past. The survey was conducted by telephone between December 2, 2015 and December 10, 2015 has a margin of error of ±3.2 percent.

"If you're not a caregiver now, you were one in the past or you'll likely be one in the future," added Tammy Bresnahan, Advocacy Director for AARP Maryland. "This survey should be a wake-up call to Maryland leaders about Maryland family caregiver realities and challenges, and what our state needs to better support the challenges family caregivers face."

Specifically, the survey found that Maryland voters overwhelmingly support:

• Requiring hospitals and health care facilities to explain and demonstrate medical and nursing tasks that family caregivers will need to perform after the patient returns home (96%);

• Keeping a family caregiver informed of major decisions, like transferring or discharging the patient (92%); and

• Recording the name of a patient's family caregiver in the medical record upon admission (82%).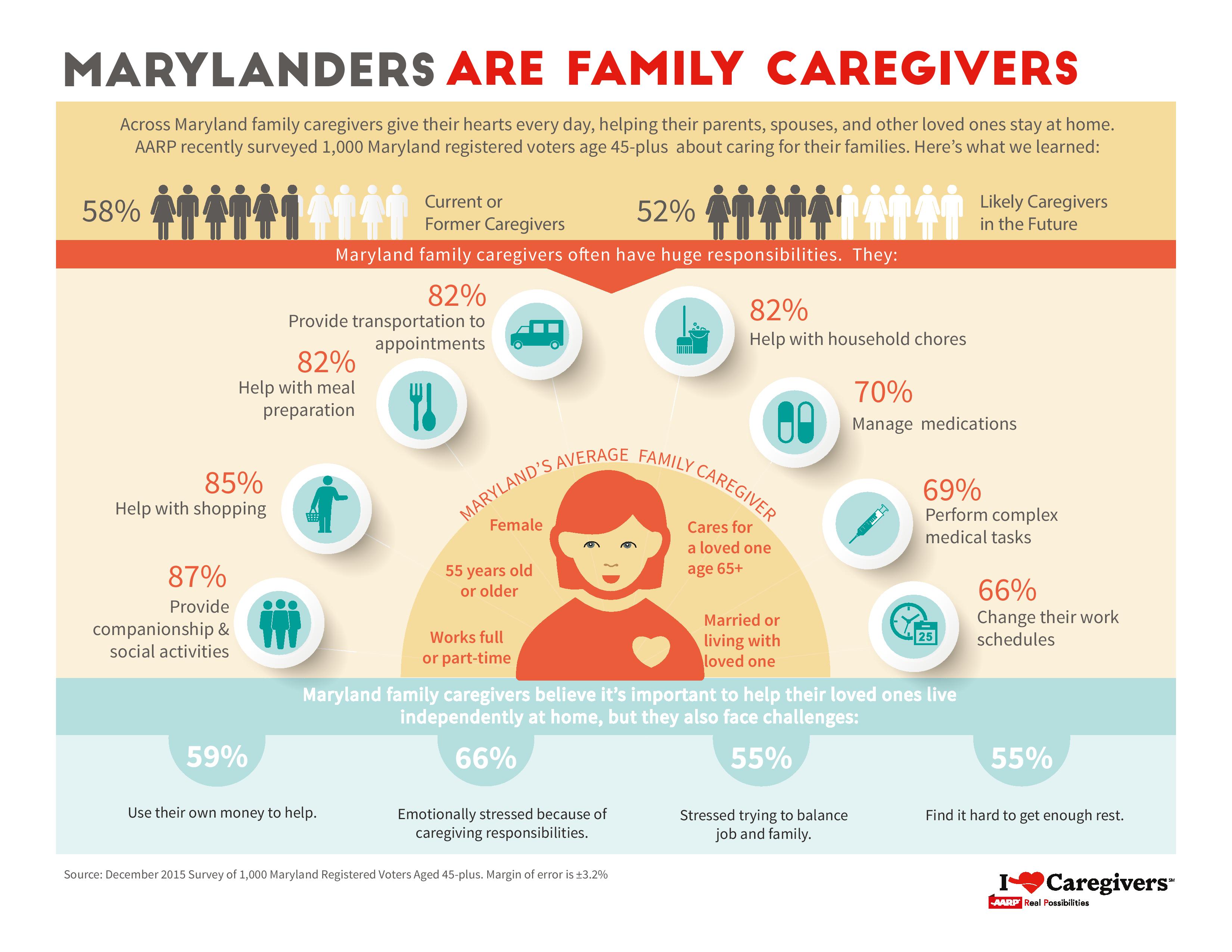 While many Maryland family caregivers report helping their loved ones with tasks like transportation (81%), shopping (85%), and providing companionship (87%), they also take on complex medical tasks. In fact, the survey found that seventy percent of Maryland caregivers perform medical tasks like managing medication, wound care, injections, and more.

Legislation sponsored by Senator Delores Kelley and Delegate Bonnie Cullison, and endorsed by AARP, would address these commonsense steps that Maryland voters want. The bills, HB 1277/SB 336 – Designation of Lay Caregivers, aim to ensure that family caregivers know what to do to safely look after loved ones when they're discharged from a hospital. More than 20 states and Puerto Rico have enacted similar measures.

"Family caregivers are the first line of defense against older Maryland residents being forced from their homes and into nursing homes or back into the hospital, but as our survey results show, this is not an easy task," said Bresnahan.

"The survey reveals that family caregivers believe it is important to be able to provide care so their loved ones can keep living independently in their own home. They want more training and resources that allow them to safely provide this in-home care," added Greenberg. "When a survey finds ninety-six, ninety-two, and eighty-two percent support for the core components of a proposal, that is more than support—that is a demand for action."

AARP's survey shows that the respondents' party affiliation is nearly evenly divided among Democrats, Republicans and Independents when it comes to supporting the elements of these bills.

"With unanimous support of these bills, AARP urges lawmakers to pass this important legislation this session to support Maryland family caregivers and their loved ones," concluded Bresnahan. Currently, the Senate version of the Bill has passed the Maryland Senate. The House version of the bill is being considered in the House during a hearing today.

This survey is part of AARP's Caregiving Campaign, which is designed to support, inform and advocate for family caregivers in Maryland and across the country. A full copy of the survey results can be found on this page, or is available by contacting the AARP Maryland State Office at 410-895-7604 or md@aarp.org.