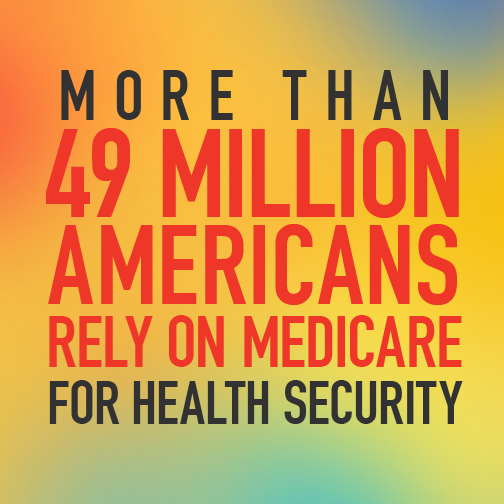 This month marks Medicare's anniversary, and for more than 50 million beneficiaries nationwide, that truly is something to celebrate.

Medicare turns 49 on July 30, and like many Americans 50+, an AARP membership card is waiting in the mailbox.

At any age, change is constant – and this applies to Medicare, too. AARP's Health Law Guide can help you stay on top of the most recent changes to your Medicare benefits. The guide can also create a personalized report that can help you determine how any possible changes may affect you and your family. If you're uninsured, your report will identify coverage you may be eligible to receive. Visit www.aarp.org/healthlawguide for your full personalized report.

In the meantime, here are some Medicare facts to celebrate:

1. Medicare covers most health costs after 65, but it doesn't cover everything. It's always a good idea to consider what additional coverage you may need. One point of uncertainty is worth clearing up: Nothing in the Affordable Care Act requires Floridians covered by Medicare to purchase additional health insurance. Medicare coverage meets the legal requirement that most Americans have health insurance. .

2. If you reach the Medicare Part D "doughnut hole" —the threshold at which you are responsible for a higher portion of your drug costs—you get a 52.5 percent discount on brand name drugs, and a 28 percent discount on generic drugs. With time the discounts will increase as the doughnut hole disappears in six years.

3. Medicare beneficiaries are entitled to free preventative care services such as mammograms, flu shots, screens for cancer and diabetes, as well as annual wellness visits.

4. Floridians 65+ are able to use supplemental plans, often termed "Medigap" plans, to cover difference between what Medicare pays and what their actual medical expenses may be. "Medigap" may also be used to cover annual co-pays and deductibles. You also have another alternative – so-called "all in one" or "Medicare Advantage" plans provided by private insurers. Investigate which alternative makes sense for you. But remember – "inexpensive" insurance can be no bargain if it fails to protect you against very high health costs.

5. Under the health care law, Medicare beneficiaries have more protection against fraud and scams. The law strengthens Medicare by adding more resources to catch those who fraudulently bill Medicare.

For more information about Medicare or to find out how Medicare can best serve you, visit www.aarp.org/health/medicare-insurance

Doug Heinlen is AARP Florida's volunteer state president.