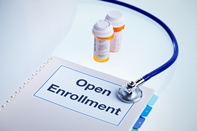 Fall is known for leaves changing, apple picking, and many more fun outdoor activities. Equally important is that fall is the time for Medicare Open Enrollment. So this year grab a pumpkin spice latte and take time to look over your Medicare options whether this is your first year eligible for Medicare, the first year you are enrolling in Medicare, or if you already have a Medicare plan. This is also the time to review your options and potentially change them.

If you are over age 65 then you may qualify for a Medicare plan. Medicare open enrollment is from October 15 th – December 7 th every year, with any changes to your plan that you select becoming effective January 1 st 2018. To compare plans, see what Medicare plans are available in your area, and to enroll in a new plan visit Medicare.gov or call 800-MEDICARE (800-633-4227). Another option for information and enrolling is to call the plan of your choice or visit its website. AARP encourages anyone who is on a Medicare plan or eligible for enrolling to review their options during the enrollment period. Many plans change and so do your health needs over the year so take this time to ensure that the plan you are using is the best fit for you.

When picking a Medicare plan enrollees should remember the four C's for enrolment: Cost, Coverage, Convenience, and Customer Service. Enrollees should consider the cost of premiums, what their deductible is, and cost sharing. Take the time to review the coverage that you are offered, what doctors and pharmacies are in your plan. Look into the convenience of the plan; are the doctors accessible, is mail ordering prescriptions available? Last, consider customer service of the plan. To find ratings based on the quality of care and customer service each plan provides go to Medicare.gov/quality-care-finder.

Enrolling in Medicare and making changes to your plan can be a daunting task; luckily there are many resources out there for enrolling. Visit AARP's Medicare Starter Kit for the quick do's and don'ts of Medicare. The AARP Medicare Resource Center and Medicare.gov are other valuable resources to answer many of the questions you may have about the Medicare enrollment period. For those who are happy with their current coverage then you do not need to take any action and your current plan will renew for 2018.