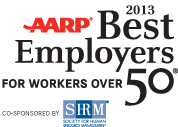 JANESVILLE, WI – AARP announced today that Mercy Health System is one of the 2013 recipients of its Best Employers for Workers Over 50 award, co-sponsored by the Society for Human Resources Management (SHRM). Now in its twelfth year, this prestigious award was established by AARP to honor employers who demonstrate a strong commitment to a maturing workforce. Mercy ranks fifth among 50 winners this year.

"Creating a great place to work for all ages helps us do whatever it takes to keep raising the bar, to provide the best care possible for our patients," says Javon R. Bea, president and CEO of Mercy Health System. "We are honored Mercy was again recognized by AARP as one of the nation's top employer for workers aged 50 and over."

Any U.S.-based employer with at least 50 employees is eligible to apply for the Best Employers award. Candidates are vetted to ensure that practices meet the needs of mature workers. Key areas of consideration include: recruiting practices; opportunities for training, education and career development; workplace accommodations; alternative work options, such as flexible scheduling, job sharing and phased retirement; employee health and retirement benefits and retiree work opportunities.

"Mercy Health System has demonstrated exemplary policies toward older workers and well deserves this honor," said AARP Wisconsin State Director Sam Wilson. "Their progressive policies meet the needs of mature workers and benefit their organization as well."

Thirty-seven percent of Mercy's employees are over the age of 50. Mercy Health System offers progressive policies toward its employees age 50 an over, including its 'Senior Connection' membership and 'Work to Retire' program. Mercy's 'Work to Retire' program allows employees age 50 and over with five years of service the opportunity to work reduced, pool or work-at-home schedules, and employees age 55 and over with fifteen years of service can work seasonally while maintaining full-year, part-time benefits. Mercy's Senior Connection benefits include free services such as Medicare and health care claims assistance, prescription drug discount service, social and educational events, living will and power of attorney for health care, as well as notary service. The Mercy Retiree Association offers numerous free benefits such as health screenings, lunch and learns, financial planning seminars and retirement planning education, elder care counseling, and special retiree discounts on Mercy services and retail products.

Mercy Health System will be profiled in the August/September issue of AARP The Magazine and recognized at a dinner in Chicago on June 17. Mercy was ranked number one of its Top 50 Best Employers for Workers Over 50 in 2006 and has been consecutively recognized ever since, named alongside large corporations such as Scripps Health, Cornell University and Intel Corporation.

Click here for a full list of this year's Best Employers.