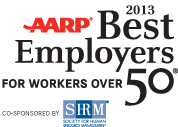 JOHNSON CITY, Tenn. – Mountain States Health Alliance (MSHA) has been recognized by AARP as one of the 50 best employers in the nation for workers over 50. MSHA is the only company in Tennessee to receive the honor this year.

"The last two years we've worked very hard to not only support our current team members in the 50-plus age demographic, but also to attract more of them through recruiting fairs that are geared toward a more mature workforce," said Jamie Parsons, vice president of human resources for MSHA.

Parsons said mature workers are extremely valuable, especially in the health care profession.

"People who have been in the workforce longer bring a level of expertise that takes years to develop," he said. "These folks have life experiences that have developed their instincts and really increase the value of their contributions. They can respond to situations in a way that can't simply be taught – it has to be learned over time."

Any U.S.-based employer with at least 50 employees is eligible to apply for the Best Employers award. Candidates are vetted to ensure that practices meet the needs of mature workers, and applications are reviewed by an independent panel of judges composed of private sector, nonprofit and government labor experts.

Areas of consideration include recruiting practices; opportunities for training, education and career development; workplace accommodations; alternative work options, such a flexible scheduling, job sharing and phased retirement; employee health and pension benefits; and benefits for retirees.

"It's no surprise that Mountain States Health Alliance has joined the AARP list of Best Employers in 2013," said Rebecca Kelly, state director of AARP Tennessee. "It's clear that the leaders of this organization recognize the importance of recruiting and retaining mature workers when you see that nearly one-third of employees are age 50 or older. We're particularly pleased with the job sharing program that offers flexible part-time work schedules for mature employees while maintaining full-time benefits and allowing folks to ease into early retirement."

In 2011, MSHA created a committee made up of several dozen team members over the age of 50, and asked them to come up with suggestions for making the health system an attractive employer for mature workers. At the recommendation of the committee, MSHA leaders made several changes, including the addition of a Retiree Relationship Manager who is available to advise team members on retirement plans, benefit questions, and other issues.

The health system also created a job sharing program for team members who are nearing retirement. The program allows workers to ease into retirement by reducing their hours without losing benefits.

"That was a satisfier for all of our team members, because younger workers can choose to job share also," said Parsons. "That's an attractive option for team members who may have young children or other family situations that make flexible scheduling necessary."

Announcement of the top 50 was made on Monday by AARP and the Society for Human Resource Management (SHRM), which is co-sponsoring the Best Employers program for the first time. SHRM is the world's largest association devoted to human resource management. The winners will be honored tonight (June 17) at the SHRM annual conference in Chicago.

"Every organization needs to view its older workers as highly valuable assets and develop strategies to keep this enormous wealth of talent," said SHRM President and CEO Henry G. (Hank) Jackson. "It's absolutely critical for organizations to embrace new ways to retain older workers, especially in the face of the coming wave of Boomer retirements."

For a full list and for more information on the 2013 Best Employers, visit www.aarp.org/bestemployers>, which includes background on employers' workforce practices and a description of the selection process. For more information on AARP's resources for older workers, visit www.aarp.org/workresources>.

______________________________________________________________________________________________________

About AARP

AARP is a nonprofit, nonpartisan organization with a membership of more than 37 million, including 670,000 in Tennessee, that helps people 50+ have independence, choice and control in ways that are beneficial to them and society as a whole. AARP does not endorse candidates for public office or make contributions to either political campaigns or candidates. We produce AARP The Magazine, the definitive voice for Americans 50+ and the world's largest-circulation magazine; AARP Bulletin, the go-to news source for the 50+ audience; AARP VIVA, a bilingual lifestyle multimedia platform addressing the interests and needs of Hispanic Americans; and national television and radio programming including My Generation and Inside E Street. The AARP Foundation is an affiliated charity that provides security, protection, and empowerment to older persons in need with support from thousands of volunteers, donors, and sponsors. AARP has staffed offices in all 50 states, the District of Columbia, Puerto Rico, and the U.S. Virgin Islands. Learn more at www.aarp.org>



About Mountain States Health Alliance

Mountain States Health Alliance, a not-for-profit health care organization based in Johnson City, Tenn., operates a family of hospitals serving a 29-county, four-state region (Northeast Tennessee, Southwest Virginia, Southeastern Kentucky and Western North Carolina). MSHA offers a large tertiary hospital, several community hospitals, two critical access hospitals, rehabilitation, a children's hospital, a behavioral health hospital, home care and hospice services, retail pharmacies, a comprehensive medical management corporation, and the region's only provider-owned health insurance company. Its 13,500 team members, associated physicians and volunteers are committed to its mission of bringing loving care to health care. For more information, visit www.msha.com>.